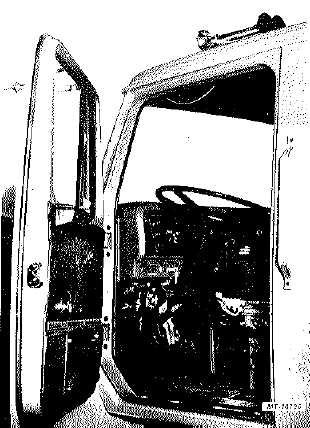 TRUCK SERVICE MANUAL
TM 5-4210-230-14&P-1
BODIES AND CABS
Remove
1.
Release  hood  latches,  on  each  side  of  cowl  and  tilt
hood assembly forward.
2.
Support  tilted  hood  on  floor  stands  or  saw  horse  to
relieve  tension  on  hood  stop  cables.    Protect  paint
from scratches.
3.
Remove spring type pins and cable end pins (one for
each  cable)  and  detach  stop  cables  from  hood  stop
brackets at top of radiator.
4.
Disconnect  headlight  wiring  harness  from  connector
on underside of hood.
5.
Remove  spring  type  pin  and  hinge  pin  from  the  two
hood    hinge    assemblies    and    detach    hood    from
chassis.
6.
Hood-to-frame hinge mounting details for the various
size hoods are shown in Figs. 3 and 4.
Fiberglass
Repair
Refer
to
BODIES
AND
CABS
CTS-2408
for
fiberglass repair instructions.
Install
Hood   installation   is   the   reverse   of   the   foregoing
removal procedure.  Before final tightening of hood mounting
bolts, check hood adjustment.
Adjust
When  making  any  adjustment  to  tilt  hood,  inspect
hood    alignment    and    clearance    between    hood    and    cowl.
Elongated   mounting   holes   in   frame   half   of   hood   to   frame
hinges provide for hood adjustment.  If adjustment is required,
loosen hinge to frame mounting bolts and adjust hood to cowl
clearance as necessary.  Tighten mounting bolts to specified
torque (see Torque Chart).
CAB DOORS (Fig.  5)
Doors   used   on   the   S-Series   cab   are   of   all   steel-
welded    construction    with    access    panel    and    button    plug
openings    for    making    hinge    adjustments    or    removal    as
required.  The door is mounted on concealed leaf type hinges
and door adjustment is provided by elongated holes in hinge
leaves.    Door  stop  is  integral  with  upper  hinge.    Door  striker
pin is also adjustable on lock pillar.  Service on the door and
its components is covered in paragraphs which follow. Fig.  5
Custom Trimmed Door
Fig.  5  Custom Trimmed Door
DOOR HARDWARE AND TRIM (Fig.  6)
Components of door assembly can be removed while
door is either on cab or removed.  They can also be removed
individually  without  having  to  remove  other  components  for
access.    Servicemen  should  have  little  difficulty  in  making  a
complete    door    disassembly    or    a    removal    of    any    of    its
component   parts.      (Most   components   do   require   the   prior
removal of door hardware and trim.)
Remove
1.
Remove  window  regulator  handle  and  door  remote
control handle by removing socket head screws from
handles.
2.
Remove two screws and detach arm rest.
3.
Remove door trim screws and detach door trim panel
(custom trim model only).
CTS-2714R  Page 7
PRINTED IN UNITED STATES OF AMERICA