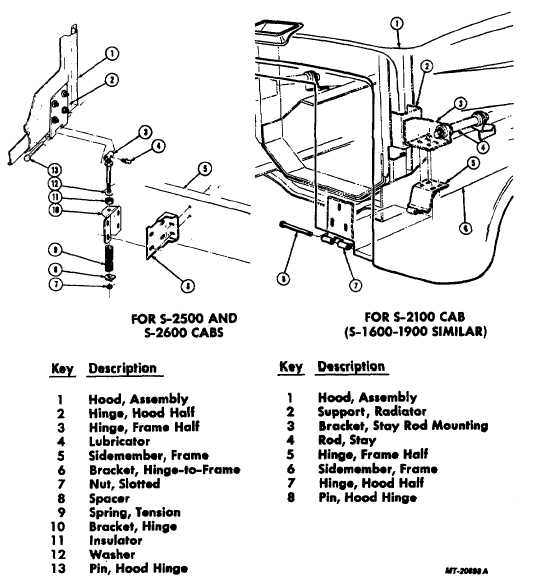 TRUCK SERVICE MANUAL
TM 5-4210-230-14&P-1
BODIES AND CABS
HOOD AND HINGE MOUNTINGS
Tilt type hoods (Figs.  3 & 4) used with S-Series cabs
are  one-piece  molded  fiberglass  units.    While  they  may  vary
slightly   in   size,   appearance   and   hinge   mounting,   they   are
similar in servicing as follows:
Hood
Opening
(Tilting)
The  hood  assembly  is  hinged  near  bumper  and  can
be tilted by releasing hood latches on
cowl panels.  Place foot on bumper step, grasp handle recess
and pull complete hood, fenders and grille assembly to front.
There are two hood stop cables to prevent over-travel of hood.
To lower hood, push the hood towards cab and at the
same  time  hold  back  at  handle  recess  to  ease  the  hood  into
travelling position.  Secure both hood latches at cowl panels.
Do not allow hood to drop into place or damage can result.
CTS-2714R  Page 6
PRINTED IN UNITED STATES OF AMERICA