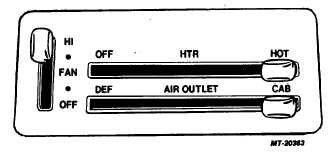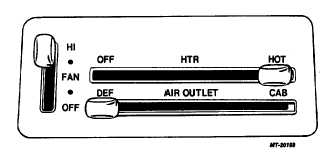 TRUCK SERVICE MANUAL
TM 5-4210-230-14&P-1
BODIES AND CABS
The refrigerant entering the evaporator expands and
begins to vaporize.  Complete vaporization requires heat.  The
refrigerant    absorbs    heat    from    the    air    surrounding    the
evaporator coils and fins.  As heat is absorbed the refrigerant
vaporizes.
The    blower    draws    warm    air    from    the    cab    and
circulates it past the evaporator where the heat is absorbed by
the  refrigerant.    Air  exhausted  by  the  blower  is  cool  because
the heat has been removed.
From   the   evaporator,   the   refrigerant   is   drawn   by
suction  into  the  compressor.    This  completes  the  refrigerant
cycle  which  is  repeated  continuously  until  the  temperature  of
the cab interior is lowered to the desired temperature.
Cab     interior     temperature     is     controlled     by     the
thermostatic   control   switch.      This   control   is   adjustable   to
permit   the   vehicle   operator   to   select   the   temperature   level
desired  in  the  cab.    The  blower  has  a  multi-speed  control
which  permits  the  vehicle  operator  to  regulate  the  amount  of
air circulation.
OPERATION
HEATING
For proper cold weather operation the heat should be
directed toward the floor level; therefore, close all instrument
panel outlets and fully open both floor dump outlets.
Adjust the temperature "HTR" (heat) lever as required
to   give   the   desired   degree   of   heat.      The   full   right   "HOT"
position    provides    the    maximum    heat.        Move    the    "AIR
OUTLETS"  control  lever  either  to  the  full  cab  position  or  to
any of the other three detented positions in order to obtain the
desired   air   flow   distribution   between   cab   heat   and   defrost
requirements.  For the maximum air flow, move the fan switch
to the "HI" position.  The heater will also operate with the fan
motor  in  the  "OFF"  position  due  to  the  ram  air  introduced
during vehicle operation.
Fig.  19   Heater Controls Set for Maximum Heat
DEFROSTING
To obtain maximum defrosting, move the "HTR" lever
to the "HOT" position and place the "AIR OUTLETS" lever on
"DEF".  Adjust the fan speed to provide the desired air flow.
To clear system of humid air, operate blowers for 30
seconds  at  "HI"  speed  before  moving  the  "AIR  OUTLETS"
lever to the "DEF" position.  This will minimize rapid fogging of
glass,   which   can   occur   if   humid   air   is   blown   onto   a   cool
windshield.
To  improve  defroster  efficiency,  remove  ice  and/or
snow from glass area.
Fig.  20   Heater Controls Set for Defrosting
FRESH AIR VENTILATION
Fresh
air
enters
the
cab
through
either
an
independent  ventilation  system  or  through  the  heater  system
itself.
When  the  "VENT"  knob  is  turned  counterclockwise,
air enters the cab from the hood scoop and flows through the
instrument   panel   outlets   and   floor   dumps.      Except   for   the
ventilation   mode,   the   knob   should   be   rotated   to   its   full
clockwise  position  (vent  door  closed)  for  all  other  modes  of
operation.
To increase the quantity of air entering the cab in the
ventilation  mode,  the  fan  may  be  used  to  power  ventilate.
Adjust the fan speed and air outlets for the desired air flow.
Fig.  21   Ventilator Control
CTS-2731   Page 13
PRINTED IN UNITED STATES OF AMERICA