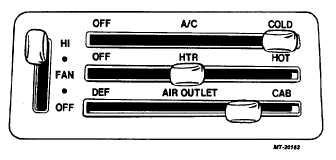 TRUCK SERVICE MANUAL
TM 5-4210-230-14&P-1
BODIES AND CABS
AIR CONDITIONING
To  properly  air  condition  your  cab  in  warm  weather
close  both  the  driver  and  passenger  floor  heat  dumps  and
open  the  instrument  panel  outlets.    Close  all  windows  and
ensure  the  vent  knob  is  turned  to  its  full  clockwise  position
(vent door closed).  Set the "HTR" lever on the "OFF" position
and "A/C" lever on "COLD".  For maximum cooling move the
"FAN" switch to the "HI" position.  (The fan must be on for A/C
operation.)   Place   the   "AIR   OUTLETS"   lever   on   the   "CAB"
position,  then  adjust  the  instrument  panel  outlets  to  evenly
distribute  the  air  around  the  occupants'  head,  chest  and  belt
areas.  If foot areas feel warm, partially open heat dumps to
achieve desired comfort level.
Initial
Cooling
-   Always   park   in   the   shade   when
possible.  But if your vehicle has been parked in open sun with
the windows up, remove overheated air inside by driving with
the windows down for one or two city blocks.  You can turn on
the  air  conditioner  controls  at  the  time  you  start  the  vehicle
engine.    After  a  short  distance  with  the  windows  down,  roll
them up again -- all the way -- adjust air flow and temperature
to your liking.
Stale
Air
and
Smoke
- To remove stale air or smoke
while  air  conditioner  is  operating,  you  may  want  to  open  a
window vent slightly for a short period of time.
Small     amounts     of     water     draining     out     of     air
conditioner's    drain    tube    is    normal.        This    is    condensed
moisture  which  has  been  removed  from  the  air  inside  your
vehicle.
The    air    conditioning    system    incorporates    a    low
pressure    switch    which    throws    a    relay    to    disengage    the
compressor  clutch  if  evaporator  outlet  pressure  falls  below  a
certain level.  To restart the air conditioning after an automatic
shut-down   has   occurred,   the   operator   must   do   one   of   the
following:
1.
Place  "A/C"  lever  in  "OFF"  position  and  then  back
"ON",
OR
2.
Place blower switch in "OFF" position and then back
"ON".
If system continues to shut down automatically, it will
be  necessary  to  diagnose  the  system  for  the  cause  of  low
pressure.
Fig.  22   Air Conditioning Controls Set for Maximum Cooling
DEHUMIDIFICATION
The
heater-defroster
systems
can
be
operated
simultaneously  with  the  air  conditioner  during  mild  weather
and high humidity conditions for dehumidification of the moist
air.  To obtain maximum dehumidification, set the "A/C" lever
to "COLD", place the fan switch on "HI" and move the "HTR"
lever    towards    "HOT"    until    a    comfortable    temperature    is
maintained.      The   air   conditioner   will   remove   the   humidity
while the heater keeps the cab comfortable.
Fig.  23    Controls Set for Dehumidification of Cab
PERIODIC MAINTENANCE
To assure optimum operating efficiency, heating and
air  conditioning  systems  must  be  properly  maintained.    (See
MAINTENANCE OPERATIONS.)
CTS-2731  Page 14
PRINTED IN UNITED STATES OF AMERICA