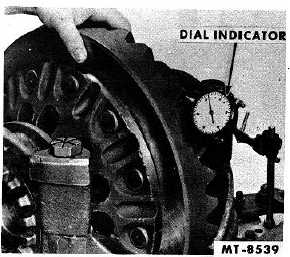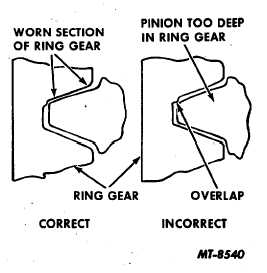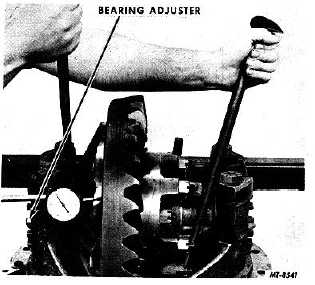 TRUCK SERVICE MANUAL
TM 5-4210-230-14&P-1
SET GEAR LASH
A   special   effort   should   be   made   to   set   the
backlash   between   pinion   and   ring   gear   to   the   same
amount  as  was  originally  built  into  them,  0.1-0.15  mm
(.004  to  .006)  on  small  gears  or  0.15-0.2  mm  (.006  to
.012) on larger gears. Generally the amount of backlash
is stamped or etched on the ring gear, Fig.  25.  When
installing  new  gears,  backlash  is  measured  with  a  dial
indicator mounted on differential housing, as in Fig.  29.
To  adjust  the  backlash,  move  the  ring  gear  toward  or
away   from   the   pinion   by   means   of   the   differential
bearing adjusting nuts.
Fig.  29  Using Dial Indicator to Set Correct
Backlash
Fig.  30  Right and Wrong Adjustment of Ring Gear and
Pinion When Worn Gears Are Reinstalled
When  original  gear  and  pinion  sets  are  being
reinstalled,  the  wear  pattern  of  the  gear  teeth  must  be
considered in the backlash adjustment.  Gears that have
been  in  service  for  long  periods  form  running  contacts
which  should  not  be  greatly  changed.    If,  in  checking
backlash,   the   amount   measured   is   in   excess   of   the
amount   shown   on   the   ring   gear,   the   lash   may   be
reduced only in the amount that will avoid overlap of the
worn tooth section, Fig. 30.  A slight overlap at the worn
section will cause gear operation to be noisy and rough.
PRELOAD DIFFERENTIAL BEARINGS
After    the    ring    gear    has    been    adjusted    for
position,   another   adjustment,   the   differential   bearing
preload, is also accomplished by these same differential
bearing  adjusting  nuts.    To  set  the  preload,  mount  dial
indicator at side of ring gear, Fig.  31, and continue the
adjustment as follows:
Fig.  31  Adjusting Differential Bearing Preload
1.   With  the  side  bearing  cap  capscrews  loosened
to  permit  bearing  movement,  loosen  adjusting
nuts    only    enough    to    notice    end    play    on
indicators.
2.   Tighten  adjusting  nuts  only  enough  to  obtain  .
000"   end   play   reading   on   indicator.   NOTE:
While gear is held in .000" end play and before
loading    bearings,    check    gear    for    runout    by
revolving  ring  gear.    If  runout  exceeds  0.2  mm
(.008"), remove differential and check for cause.
3.   Tighten both adjusting nuts from .  000" end
play to preload the differential bearings.
Tightening nuts one notch each usually gives
bearings the correct preload.
CTS-2095S - Chapter I - Page 13
PRINTED IN UNITED STATES OF AMERICA