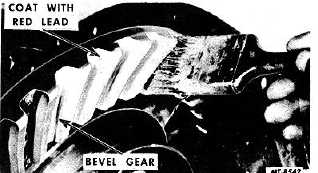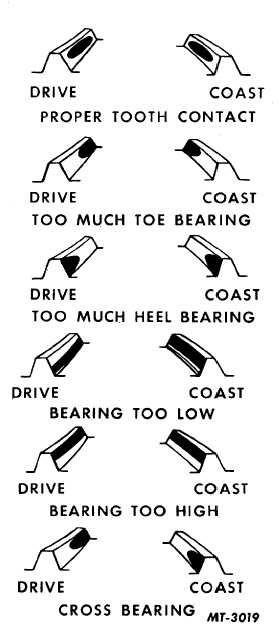 TRUCK SERVICE MANUAL
TM 5-4210-230-14&P-1
4.   Tighten  bearing  cap  capscrews  or  stud  nuts  to
specified torque.
5.   Recheck gear lash to make certain that the lash
setting    has    not    been    changed    during    the
preloading operation.
6.   Install adjusting nut locks.
CHECK GEAR TOOTH CONTACT
The     following     instructions     cover     the     paint
impression  method  of  checking  tooth  contact  and  are
especially for the benefit of those not equipped with an
SE-1065  pinion  setting  gauge.    The  instructions  may
also be used as a check on the adjustment obtained with
the  gauge.    By  this  method  the  mechanic  temporarily
bolts  up  the  pinion  and  cage  to  the  differential  carrier
and coats the drive gear teeth with oiled red lead, as in
Fig.    32.    When  the  pinion  is  rotated,  the  red  lead  is
squeezed away by the contact of the teeth, leaving bare
areas    the    exact    size,    shape,    and    location    of    the
contacts.    If  these  contacts  are  not  acceptable,  shims
must  be  added  to  or  taken  from  the  shim  pack  located
between  the  pinion  cage  flange  and  differential  carrier
housing.    In  this  manner,  a  satisfactory  adjustment  is
accomplished.    Bear  in  mind  that  the  accuracy  of  the
adjustment obtained with the paint impression method is
dependent    upon    the    skill    and    experience    of    the
mechanic.  It may be necessary to make several trials at
the  right  selection  of  shims  to  obtain  the  correct  tooth
contact.
Fig.  32  Painting Gear Teeth for Obtaining
Tooth Contact Impressions
Sharper    tooth    contact    impressions    may    be
obtained by applying a small amount of resistance to the
gear  with  a  flat  steel  bar  and  using  a  wrench  to  rotate
the pinion.  When making adjustments, check the drive
side of the ring gear teeth.  Coast side contact should be
automatically correct when drive side contact is correct.
As  a  rule,  coating  about  twelve  teeth  is  sufficient  for
checking purposes.
Fig.  33  Location, Size and Shape of Correct Tooth
Contacts
With adjustments properly made, a correct tooth
contact similar to that shown in Fig.  33 will be secured.
The area of contact starts near the toe of the gear and
extends about 62-1/2 percent of the tooth length.  This
adjustment results in a quiet running gear and pinion
CTS-2095S - Chapter I - Page 14
PRINTED IN UNITED STATES OF AMERICA