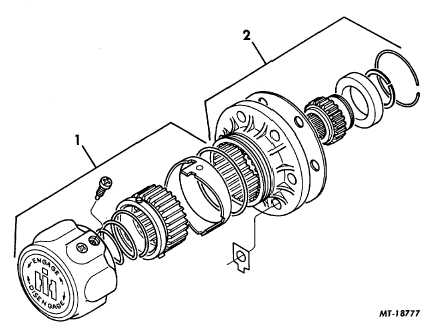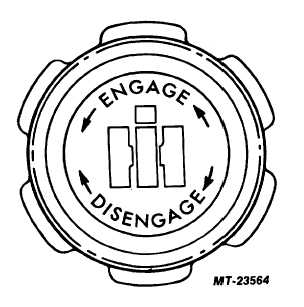 TRUCK SERVICE MANUAL
TM 5-4210-230-14&P-1
AXLE-FRONT
Fig.  1  Locking Hub (Dualmatic)
LEGEND FOR FIG.  1
NO
.
DESCRIPTION
1
CLUTCH ASSY.
Fig.  2  Dial Control
NO
.
DESCRIPTION
2
BODY ASSY.
OPERATION
WHEN
TO
USE
"DISENGAGE",
OR
"ENGAGE"'
POSITION:
Use  "DISENGAGE"  for  all  driving  that  does  not  require  four-
wheel drive power and traction.
Use "ENGAGE" whenever four-wheel drive is used.
To  avoid  excessive  torque  loads  on  the  rear  axle,  DO  NOT
drive  vehicle  in  low  range  of  transfer  case  with  locking  hubs
set in "DISENGAGE" position.
For the first 320 km (200 miles) operate your new vehicle with
the   locking   hubs   in   "ENGAGE"   position   to   assist   in   initial
break-in of the front driving axle.  Place transfer case control
in 2-wheel drive position.
DO NOT DRIVE unless controls on both hubs are set properly
and both are set the same!
Always   shift   transfer   case   to   2WH   before   attempting   to
disengage locking hubs.
CTS-2785  CHAPTER III  Page 2
PRINTED IN UNITED STATES OF AMERICA