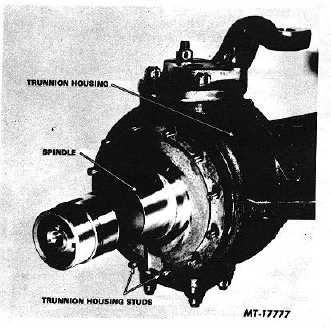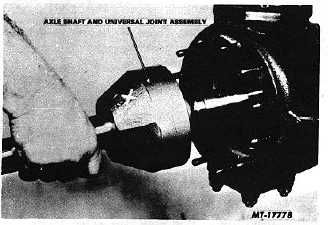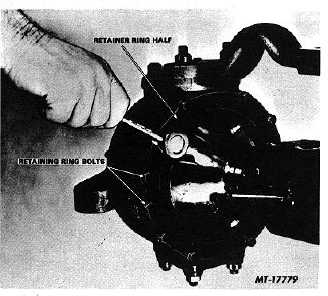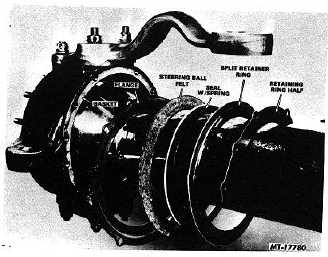 TM 5-4210-230-14&P-1
TRUCK SERVICE MANUAL
AXLE END DISASSEMBLY
(Wheel, Hub, Drum and Brake Group Removed)
Trunnion Housing Disassembly
1.
Slide   spindle   off   Trunni9n   Housing   Studs,   (retaining
nuts removed when disassembling brake group).  See
Fig.  1
Fig.  1  Removing Spindle
2.
Remove  axle  shaft  and  universal  joint  assembly  from
axle housing (Fig.  2).
Care should be taken not to damage axle shaft oil seal in end
of axle housing when removing axle shaft
Fig.  2  Removing Axle Shaft and Universal Joint Assembly
3.
Remove   retaining   ring   half   (-halves)   mounting   bolts
and  lockwashers  from  back  side  of  trunnion  housing
(Fig.  3).
Fig.  3  Removing Retaining Ring Half (Halves)
Mounting Bolts
4.
Remove  retaining  ring  halves,  split  ring  retainer,  seal
with  spring,  steering  ball  felt,  flange  and  gasket  from
back side of trunnion housing (Fig.  4).
Fig.  4  Trunnion Housing Seals and Retainers
5.
Loosen  both  upper  and  lower  trunnion  cap  retaining
nuts.        Remove    bottom    cap    mounting    nuts    and
lockwashers only at this time.
CTS-2658S  Page 13
TM 5-4210-228-14&P-5