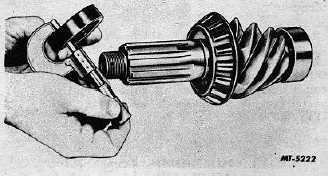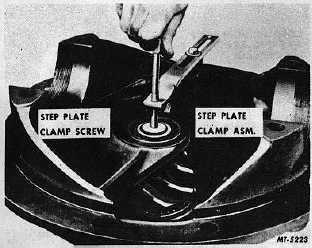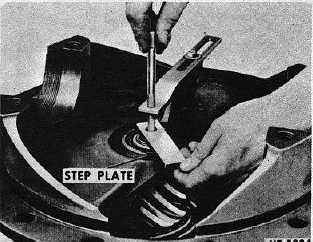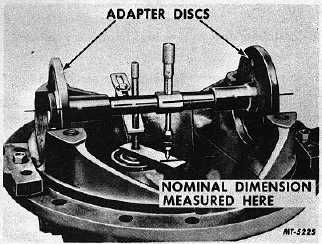 TRUCK SERVICE MANUAL
TM 5-4210-230-14&P-1
12.
Wash  spacer  clean  of  emery  cuttings  before  installing
on pinion.
Fig.  12   Measuring Spacer Thickness
13.
After    pinion    bearing    preload    is    established    good
practice would be to check bearing roller ends to see whether
they   are   in   contact   with   bearing   cone   face.      Use   a   feeler
gauge ribbon.  There must be no clearance at ends of rollers
(Fig.  11).
Check   pinion   end   nut   for   correct   torque   and   install
cotter pin.
Pinion Nominal Dimension
To   establish   pinion   nominal   dimension   which   is   the
distance from the face or finished end of the installed pinion to
the   centerline   of   the   ring   gear   or   cross   shaft,   proceed   as
follows.
Fig.  13   Locating Step Plate Clamp
14.
Install pinion, cage and bearing assembly in differential
carrier.      Obtain   step   plate   clamp   assembly   from   SE-1065
Pinion  Setting  Gauge  set  and  attach  it  to  differential  carrier
flange,  locating  step  plate  clamp  screw  over  center  of  pinion
(Fig.  13).
15.
Install step plate under clamp screw and tighten screw
to hold step plate securely in position (Fig.  14).
Fig.  14  Installing Step Plate
16.
The  step  plate  is  necessary  to  project  the  face  of  the
pinion where it can be measured by the gauge which is on the
centerline of the drive gear.
Be certain lugs on step plate straddle the bearing
staking indentations on end of pinion.
17.
Mount  assembled  SE-1065  gauge  in  bearing  bores  of
carrier  (Fig.    15).    See  "SPECIFICATIONS"  for  correct  disc
size.
Fig.  15  Assembled Gauge in Position
18.
Make  certain  that  bearing  bores  are  clean  and  free  of
nicks and burrs.  Adjust micrometer so it is directly over end
at a 90 degree angle to step plate.
CTS-2658S  Page 8
PRINTED IN UNITED STATES OF AMERICA