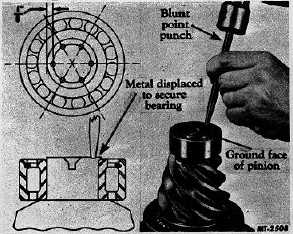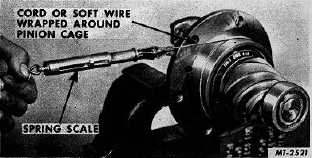 TRUCK SERVICE MANUAL
TM 5-4210-230-14&P-1
Fig.  9 Staking Pinion Straddle Bearing
It is suggested that for locating punch' positions
for   staking,   the   end   of   the   pinion   be   painted   with
Prussian Blue and a circle be scribed on end of pinion
about 3.17 mm (1/8") in from the pinion circumference.
When   staking   the   bearings   be   careful   to   make   the
depth   of   the   indentations   or   stake   points   uniform,
otherwise  bearing  may  be  damaged.    Deep  punch  or
stake   marks   are   not   necessary.      Apply   the   staking
operation  at  opposite  sides  of  the  pinion  end  until  all
stake points are obtained.  Where special staking tools
are available, they can be used, otherwise the use of a
blunt or round nosed punch is satisfactory.
3.
If bearing cups (7) have been replaced, press new cups
firmly against shoulders of pinion cage (10).
4.
Prelubricate the bearings with gear lubricant.
5.
Position  spacer  (8)  on  pinion  shaft  and  against  rear
thrust bearing.
6.
Insert pinion and rear thrust bearing (6) in pinion cage.
7.
Mount  pinion  and  cage  in  arbor  press  and  place  pre-
lubricated   front   thrust   bearing   (6)   on   pinion   shaft.      Press
bearing firmly and squarely against spacer.
Pinion Bearing Preload
Pinion
bearing
preload
is
established
by
selecting  the  correct  size  spacer  (8)  located  between
the two pinion thrust bearings and tightening pinion end
nut to the specified torque (see "TORQUE CHART").
8.
Temporarily assembly the pinion, cage and
flange    assembly,    less    oil    seal    and    retainer.    Clamp    the
assembly in a vise to hold the companion flange.  Tighten end
nut to specified torque.
9.
The pinion cage should be rotated while tightening the
pinion to seat and align the bearings.  Rotation of the pinion is
important.  Otherwise  a  false  condition  of  bearing  load  could
exist.  The bearing rollers must be seated against the face of
the bearing cone (Fig.  10).
Fig.  10  Pinion Bearing Roller Position
10.
To measure bearing preload, wrap a strong cord or soft
wire about the pinion cage and attach end to spring scale (Fig.
11).  Read  scale  only  while  cage  is  rotating.    Compare  this
scale reading with the figure shown in "SPECIFICATIONS".
Fig.  11  Measuring Pinion Bearing Preload
11.
When
preload
does
not
agree
with
"SPECIFICATIONS",    bearing    load    may    be    increased    by
installing  a  thinner  spacer  or  decreased  by  using  a  thicker
spacer.  Determine spacer thickness using a micrometer (Fig.
12) and make a new selection accordingly.  Closer adjustment
may   be   obtained   by   working   spacer   to   desired   thickness,
using emery cloth on a flat surface.
CTS-2658S  Page 7
PRINTED IN UNITED STATES OF AMERICA