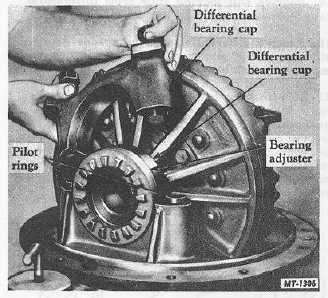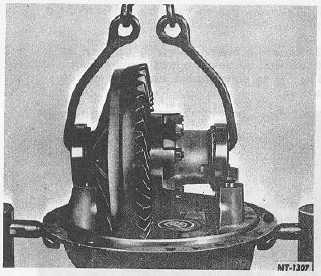 TRUCK SERVICE MANUAL
TM 5-4210-230-14&P-1
DESCRIPTION
The  axle  covered  in  this  manual  is  a  front  driving  unit
incorporating  hypoid  gears  and  spherical  steering  knuckles.
Driving torque from the axle shaft to the wheels is transmitted
by a drive flange bolted to the axle shaft.
Complete Overhaul
1.
Jack  up  truck  until  load  is  removed  from  the  springs
and place floor jack under frame to safely secure truck weight
off axle.
2.
Drain lubricant from housing.
3.
Disconnect brakes.
4.
Disconnect drag link from ball stud bracket .
5.
Disconnect propeller shaft from pinion shaft yoke.
6.
Support axle on portable floor jack and remove spring
bolts.
7.
Roll axle out from truck and position on stationary floor
jacks.
8.
Remove tires and rims or disc wheels as appropriate.
DISASSEMBLY
Differential
1.
To remove differential carrier from axle housing remove
mounting nuts from carrier to axle housing flange.
2.
Use  puller  screws  provided  in  carrier  mounting  flange
to start carrier from housing.
3.
Support weight of carrier safely on roller type floor jack
or  portable  floor  lift  and  roll  jack  and  carrier  out  from  under
truck.
4.
Mount differential carrier in rebuild stand .
5.
Remove  cotter  pins  from  bearing  adjuster  locks  and
remove locks from bearing caps.
6.
Match   mark   one   differential   bearing   cap   and   leg   of
carrier   with   punch   or   chisel   to   identify   each   for   correct
reassembly.
7.
Remove   bearing   cap   bolts   and   take   off   the   bearing
caps and bearing adjusters (Fig.  1).
Fig.  1  Removing Differential Bearing Caps
Attach    chain    sling    from    overhead    hoist    and    lift
differential   and   drive   gear   assembly   from   the   differential
carrier (Fig.  2).  Tilt either the carrier or differential assembly
to   allow   drive   gear   to   pass   pinion   radial   bearing.      Place
differential assembly on bench.
Fig.  2  Lifting Differential from Carrier
8.
Match  mark  differential  case  halves  with  a  punch  or
chisel to assure correct alignment on reassembling.
CTS-2658S  Page 3
PRINTED IN UNITED STATES OF AMERICA