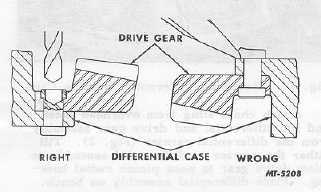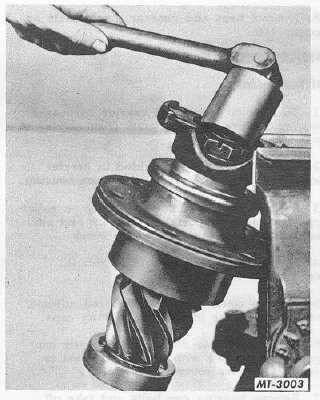 TRUCK SERVICE MANUAL
TM 5-4210-230-14&P-1
9.
Remove  self-locking  nuts  from  differential  case  bolts
and separate the case halves.
10.
Remove   differential   spider,   spider   gears,   side   gears
and thrust washers from differential case halves.
11.
If   necessary   to   remove   drive   gear,   carefully   center
punch each rivet head on drive gear side and drill through the
rivet head with a drill .79 mm (1/32") smaller than rivet body
(Fig.  3).  Use a punch to press out remaining portion of rivet.
Never  use  chisel  to  cut  off  rivet  heads  or  damage  to  case
might result.
Fig.  3  Drive Gear Rivet Removal
12.
Take   out   pinion   cage   bolts   which   hold   the   cage   to
differential carrier.
13.
Obtain  a  brass  drift  and  hammer  and  strike  against
rear face of pinion shaft (Fig.  4) to start pinion and cage out
of carrier.
Fig.  4  Loosening Pinion and Cage from Carrier
14.
Remove the pinion and cage assembly from the carrier
(Fig,   5).      Because   of   the   weight   of   the   pinion   and   cage
assembly   make   sure   that   parts   are   secured   safely   while
removing.    Pinion  and  cage  might  be  damaged  if  allowed  to
fall.
Fig.  5  Removing Pinion and Cage Assembly
Fig.  6  Removing Pinion End Nut
15.
Mount the pinion and cage assembly in a heavy duty
vise and remove the pinion end nut as shown in Fig.  6.
CTS-2658  Page 4
PRINTED IN UNITED STATES OF AMERICA