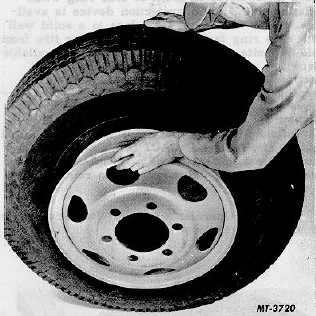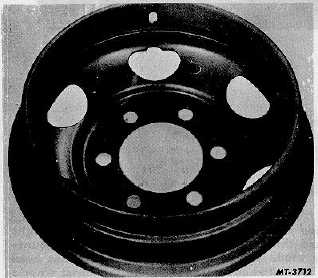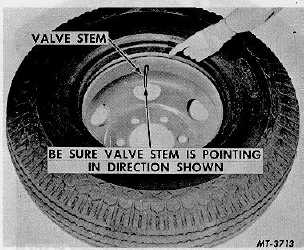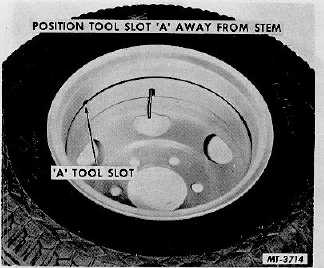 TRUCK SERVICE MANUAL
TM 5-4210-230-14&P-1
WHEELS, RIMS, TIRES
Remove wheel from tire as shown in Fig.  23.
Fig.  23
Mounting
Tire
Remove all dirt or foreign matter from wheel.   Position
tube   in   tire   and   inflate   until   tube   is   nearly   rounded   out.
Lubricate  tire  beads,  rim  sides  of  tube,  and  tire  flap  sides.
Position  flap  in  tire.    Lay  disc  portion  of  wheel  on  floor  (Fig.
24).
Fig.  24
NOTE:  Do  not  use  commercial  rubber  lubricants  for
mounting tires to aluminum wheels.
Install tire and lube assembly being sure valve stem is
pointing in position shown in Fig.  .  25
Fig.  25
Position side ring to wheel so that tool slot "A" is away
from  the  valve  stem  (Fig.    26).      This  will  prevent  tool  from
contacting valve stem.
Fig.  26
Step on the ring to force tire down, until cut-away "AA" on ring
slip over the edge and hook on rim.  Then insert tool into tool
slot and push outward (Fig.  26).  Hold onto tool and hammer
the  ring  between  slot  and  nearest  cut  away.    This  action  will
hook ring and rim together.
CTS-2032N  Page 9
PRINTED IN UNITED STATES OF AMERICA