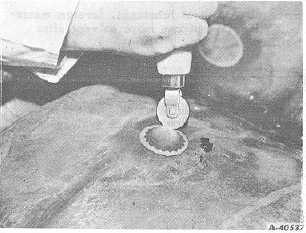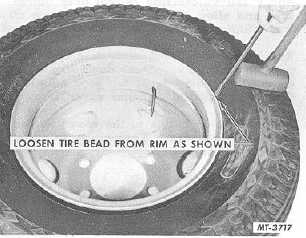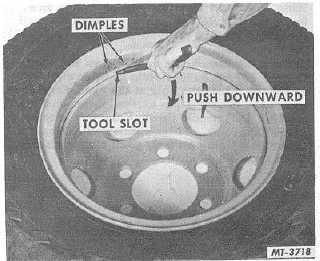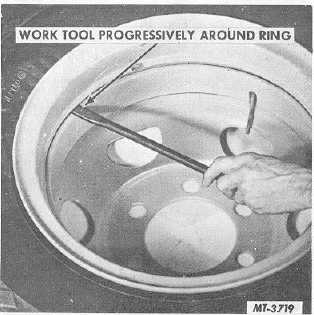 TRUCK SERVICE MANUAL
TM 5-4210-230-14&P-1
WHEELS, RIMS, TIRES
Fig.  19
MOUNTING AND DISMOUNTING TIRES
General
The following instructions were prepared as an aid for
mounting  and  dismounting  tires  on  different  types  of  wheels.
All standard safety precautions should be observed.
CAUTION:  Before  mounting  radial  tires  make  certain
that heavy duty rims or approved rims for these tires are being
used.    It  may  be  necessary  to  contact  your  wheel  and  rim
distributor to determine if rims are approved for radial tires.
TWO-PIECE   WHEEL   AND   SIDE   RING   (Continuous   Base,
Continuous Side-Ring)
The   following   instructions   are   given   as   an   aid   in
servicing the two-piece wheel and side ring.
Dismounting
Tire
Fig.  20
Completely deflate tire by removing valve core.  Loosen
tire bead from ring by driving the curved end of tool between
ring and bead (Fig.  20).
Fig.  21
Insert tool into the tool slot.  NOTE: Tool slot is located
between  the  two  dimples  on  inside  of  ring.    Push  downward
on tool until ring is disengaged from rim gutter (Fig.  21).
Fig.  22
Work    progressively    around    ring    until    ring    can    be
removed.    Turn  tire  over  and  loosen  opposite  tire  bead  (Fig.
22).
CTS-2032N  Page 8
PRINTED IN UNITED STATES OF AMERICA