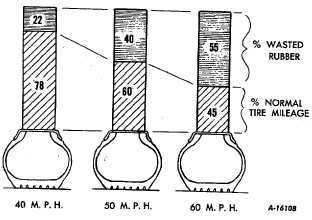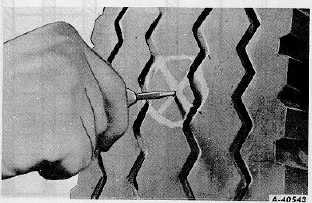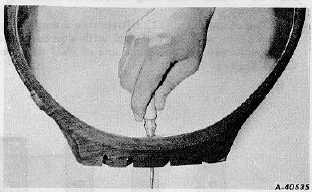 TRUCK SERVICE MANUAL
TM 5-4210-230-14&P-1
WHEELS, RIMS, TIRES
SPEEDS
Excessive speed is definitely one of the most important
factors in loss of tire mileage.  The chart (Fig.  13) illustrates
how an increase in speed from 40 to 50 mph results in 18%
loss  in  mileage.    An  increase  of  speed  from  40  to  60  mph
results in a 33% mileage loss.
Fig.  13.  Speed vs.  Mileage
TIRE MATCHING (Dual Tires)
Use  care  in  matching  dual  tires.    Tires  which  differ
more than 1/4" in diameter or 3/4" in circumference should not
be   mounted   on   the   same   dual   wheel.      Should   it   become
necessary  to  mount  two  tires  of  unequal  size  on  the  same
dual wheel, place the larger or less worn tire on the outside.
TIRE MATCHING (Tandem Drive Axles)
When mounting tires on tendem drive axles, follow the
same instructions as specified for dual tires.  However, never
install  the  four  largest  tires  on  one  driving  axle  and  the  four
smallest on the other.  This method of tire mounting will cause
high lubricant temperatures which may lead to premature axle
failures.
TIRE REPAIR
Methods  for  repairing  tires  will  vary  slightly  with  each
manufacturer
and
it
is
recommended
that
the
tire
manufacturers' procedures be followed if possible.  However,
the  procedure  outlined  here  applies  in  general  to  most  tires
whether they are light duty or heavy duty. Patching will usually
be  satisfactory  for  all  injuries  up  to  3/16"  diameter.    Larger
injuries should be handled by spot or section repair methods.
The
first
four
steps
given
here
apply
to
both
the
hot
and
cold
patch
methods
.
NOTE:  Some tire repair methods for simple punctures
do   not   require   the   dismounting   of   tire   from   rim.      These
methods should be regarded as temporary fixes since there is
a good chance of ply separation and ultimate tire failure can
result when puncture plug is installed from the outside.
1.
Remove tire and wheel assembly and inflate the tire to
the recommended pressure.  Locate the leak and mark
with a crayon.  It may be necessary to immerse the tire
in water or apply a coat of soapsuds to the tire to locate
the leak.  Demount the tire. Probe the injury with an awl
(Fig.  14) to remove the puncturing object and foreign
material.
Fig.  14
Fig.  15
2.
Thoroughly clean the inside of the tire around the injury
with   rubber   solvent   and   allow   to   dry.      As   a   safety
precaution,  solvent  vapors  should  be  blown  out  of  the
tire with compressed air.  Solvent is not needed
CTS-2032N  Page 6
PRINTED IN UNITED STATES OF AMERICA