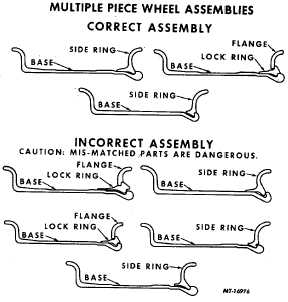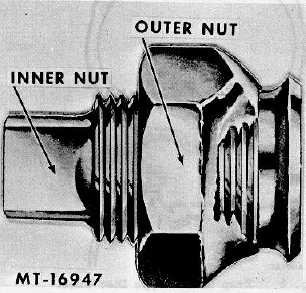 TRUCK SERVICE MANUAL
TM 5-4210-230-14&P-1
WHEELS, RIMS, TIRES
Multiple Piece Rims
On    multiple    piece    rims    if    it    is    determined    during
periodic   inspection   or   during   tire   changes,   that   a   part   is
defective it must be replaced.
Caution  must  be  observed  when  selecting  the  proper
replacement part, an incorrect fit is dangerous.  (See Incorrect
Assembly Fig.  5). The side ring, locking ring and base must
all    fit    correctly    as    illustrated    in    Figure    5    under    Correct
Assembly.
MULTIPLE PIECE WHEEL ASSEMBLIES
CORRECT ASSEMBLY
Fig.  5
ALUMINUM WHEELS
Care
and
Maintenance
Aluminum wheels should be periodically inspected both
on the vehicle and during tire changes for cracks, loose wheel
studs, worn mounting holes or being bent.
When checking cap nuts on dual disc wheels, back off
outer nut before attempting to tighten inner nut.
Whenever  a  tire  is  removed,  clean  off  all  grease  and
road dirt.  Use a wire brush or steel wool to remove the rubber
from the bead seat.
Projections  on  the  side  wall  of  the  gutter  may  cause
uneven  seating  of  the  side  ring  and  lead  to  chipping  of  the
gutter.    Remove  these  and  other  projections  in  the  mounting
area to assure the best possible fits.
Nicks and gouges in the vicinity of the fixed flange may
lead to rim fracture.
NOTE:    Do  not  heat  or  weld  wheels  in  an  attempt  to
straighten  or  repair  severe  road  damage.    The  special  alloy
used in these wheels is heat-treated, and uncontrolled heating
from welding torch affects the properties of the material.
To    avoid    possible    corrosive    affects    to    aluminum
wheels,  use  only  a  slight  amount  of  water  and  neutral  soap
(similar   to   Ivory   Snow,   Dreft,   etc.      no   detergents)   when
mounting tires.  Do not use commercial rubber lubricants.
Wheel
Installation
When     installing     aluminum     wheels,     lubricate     stud
threads  using  a  petroleum  base  grease  containing  colloidal
graphite.  Be certain end of wheel wrench is smooth as it will
tear grooves in the wheel around the stud nuts it if is rough.
NOTE:    Do  not  allow  dirt  to  enter  the  mounting  area
during installation.  See "TORQUE CHART" for correct torque
values.
Wheel
Studs
and
Mounting
Nuts
Maintaining   wheel   stud   and   mounting   nut   tightness
does  much  to  insure  safe  and  satisfactory  wheel  operation.
Loose   wheel   mounting   can   cause   vibration,   shimmy,   tire
wear, stud breakage, worn studs, mounting nuts (Fig.  6) and
worn   or   elongated   stud   holes   (Fig.      7).   Parts   with   these
characteristics   must   be   replaced.   Always   keep   wheel   stud
nuts tightened to specified torque.
Fig.  6
CTS-2032N  Page 2
PRINTED IN UNITED STATES OF AMERICA