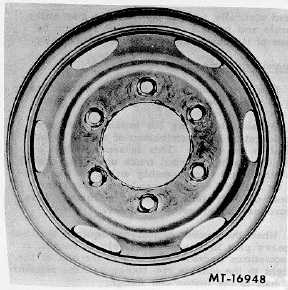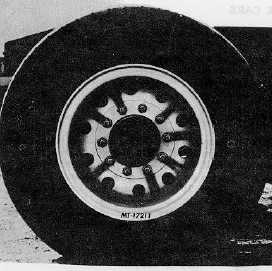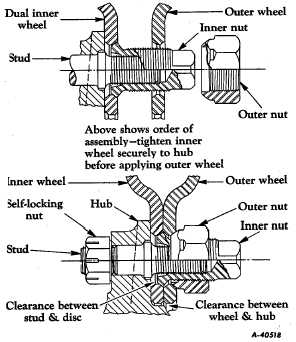 TRUCK SERVICE MANUAL
TM 5-4210-230-14&P-1
WHEELS, RIMS, TIRES
Fig.  7
NOTE:  Rust streaks (Fig.  8) from stud holes is a good
indication that mounting nuts are not tightened to the specified
torque.
Fig.  8
DISC WHEELS
On   

disc

  

wheels,

  which   have   rims   integral   with   the
wheel itself, the important thing to note is that the wheel stud
nuts must be kept tight. This means they should be inspected
and   tightened   at   regular   intervals.      When   checking   the
mounting studs and nuts on

dual

disc

wheels,
(Fig.  9) the outer nut should be backed off before attempting
to tighten the inner nut.  Try all cap nuts after the first trip or
any wheel change.  Properly installed they should remain tight
indefinitely.      On   

cast

  

wheels

  which   have   rims   that   are
demountable with the tire, the rim clamp nuts should also be
kept tight.  Rim and tire to wheel alignment should be checked
frequently  to  make  sure  the  tire  is  running  true.  Left-hand
thread  nuts  can  be  identified  by  the  small  groove  machined
around  the  flats.    Left  hand  studs  can  be  identified  by  the
letter "L" stamped on the head.  Use left-hand nuts on the left
side of the truck.
Fig.  9
NOTE:    Before  mounting  wheel  assemblies  on  vehicle
make  sure  all  parts  are  clean  and  free  from  foreign  matter.
Excess paint on wheel stud hole perimeters can permit wheel
mounting nuts to loosen with use.
RIM TIGHTENING AND ALIGNMENT
When   installing   demountable   rims,   be   certain   stud
threads  are  clean  to  permit  correct  torquing  of  nuts.    NOTE:
Do
not
use  any  type  of  lubrication  on  threads  except  when
installing aluminum wheels.
With  rims  in  position  (valve  stem  180  degrees  apart)
successively  tighten  

opposite

 nuts  to  assure  drawing  wheel
(or wheels in evenly. This procedure will also minimize wheel
mis-
CTS-2032N  Page 3
PRINTED IN UNITED STATES OF AMERICA