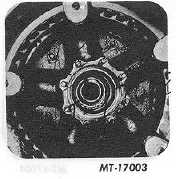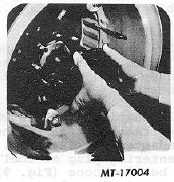 TRUCK SERVICE MANUAL
TM 5-4210-230-14&P-1
WHEELS, RIMS, TIRES
Fig.  11
2.
Using a wheel dolly place wheel on spindle; care must
be  taken  not  to  damage  the  seal,  especially  on  the
leading edge of the spindle or axle (Fig.  11).
INITIAL LUBRICATION OF WHEEL BEARINGS
Transparent
Hub
Cap
(Front
Axle)
Add oil through filler plug hole in hub cap allowing time
for oil to seep through the bearings and seek a level on initial
fill.    When  properly  filled  oil  should  be  on  or  9.5  mm  (3/8")
above the oil level mark on the hub cap window. Use engine
oil  or  gear  oil  for  front  wheels  (see  LUBRICATION,  Section
CTS2412).
Hub
Cap
Without
Window
(Front
Axle)
Add   .71   liter   (1-1/2   pints)   of   matching   differential
lubricant  or  enough  lubricant  to  touch  the  bottom  surface  of
the  wheel  spindle  outside  diameter  of  each  front  wheel.    For
initial fill, pipe tap hole should be at.12 o'clock position.
Add oil through pipe tap hole in axle shafts.  Fill until oil runs
out  of  filler  hole  when  positioned  at  4  to  5  or  7  to  8  o'clock
positions [approximately .71 liter (1-1/2 pints)].
TRACTOR DRIVE WHEELS (Rear Axle)
Dip bearing cones in lubricant.
Before    installing    outer    cone    fill    the    wheel    cavity
between bearings with the same oil to be used in differential.
This    will    assure    bearing    and    spindle    lubrication    until
lubrication creeps through the outer bearing.
NOTE:      The   differential   must   not   be   over-
filled.    A  periodic  check  is  to  be  made  for
proper lubricant level.
On tractor drive wheels, apply Loctite gasket eliminator
(sealant) material No.  504 to back of axle flange and install
axle (Fig.  12).
Fig.  12
CTS-2032N  Page 6
PRINTED IN UNITED STATES OF AMERICA