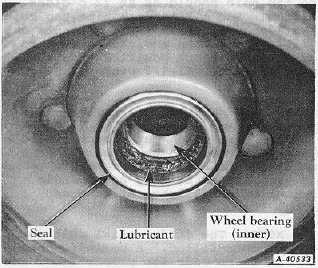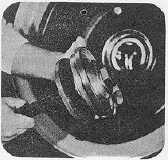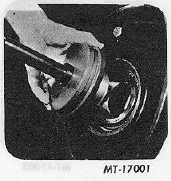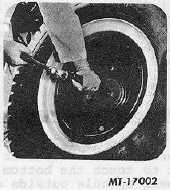 TRUCK SERVICE MANUAL
TM 5-4210-230-14&P-1
WHEELS, RIMS, TIRES
Fig.  7
Unitized
Seal
Installation
1.
If   wheel   is   being   changed   to   a   unitized   seal   from
another   type   of   seal,   remove   wear   sleeve   backing
plates  or  axle  rings  as  they  are  no  longer  required.
Note the order of parts at disassembly to assure proper
reassembly.
2.
Thoroughly  clean  all  parts  and  remove  all  burrs  from
spindle and hub bore.  Inspect and replace all parts as
warranted.
3.
To install unitized seal in wheel, seat outer face of seal
in  the  recess  of  tool  adapter  SE-2524  (Fig.    8).  Insert
centering plug of tool in bore of inner bearing cone (Fig.
9).  Using  the  centering  plug  prevents  cocking  of  the
seal  in  wheel  bore.  Bore-tite  coating  on  seal  fills  in
minor imperfections in the wheel bore.
Fig.  8
Fig.  9
4.
Hold tool handle firmly and strike until sound of impact
changes when seal is seated (Fig.  10).
NOTE:  Seal must be reseated any time wheel
is removed.
A good check of proper seal installation is to move the
synthetic sealing member with your fingers after installation in
wheel  hub.    There  should  be  a  slight  in  and  out  movement
possible.
Fig.  10
MOUNTING WHEEL ON SPINDLE INSTRUCTIONS
(With Oil Lubricated Bearings)
1.
To   insure   good   starting   lubrication   fill   wheel   cavity
between the bearings with lubricant.
Front
Axle:
Fill  wheel  cavity  with  engine  oil  or  rear
axle   lubricant   (see   LUBRICATION,   Section   CTS-
2412).
Rear
Axle:
Fill  with  same  gear  lubricant  as  used  in
the axle differential.
CTS-2032N  Page 5
PRINTED IN UNITED STATES OF AMERICA