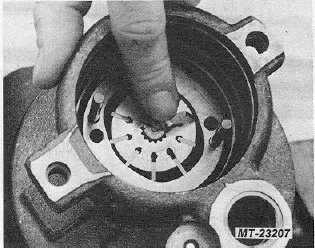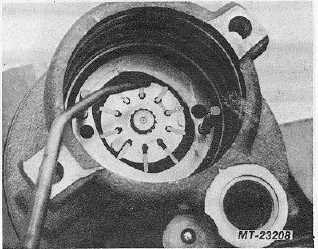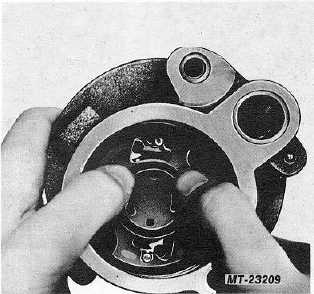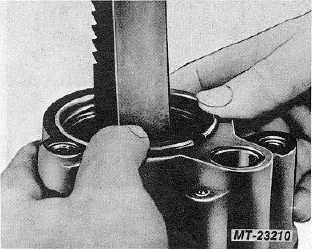 TM 5-4210-230-14&P-1
TRUCK SERVICE MANUAL
STEERING
Fig. 28   Install Vanes
Fig. 29   Lubricate Rotating Group
8.
Lubricate   pressure   plate   with   power   steering   fluid.
Locate plate on dowel pins.  Press down to force plate
past pressure-plate "0" ring (Fig.  30).
Fig. 30   Seat Pressure Plate
9.
Place spring in groove on pressure plate (Fig. 9).
10.
Position  end  plate  on  housing.    (Lip  on  endplate  up.)
Force  housing  down  using  arbor  press  until  retaining
ring groove is visible.
11.
Install   end-plate   retaining   ring   (ring   gap   1800   from
knock-out   hole   in   housing)   and   release   arbor   press
(Fig.  31).
Fig. 31   Install End Plate Retaining Ring
CTS-2296R  Chapter 3, Page 10
PRINTED IN UNITED STATES OF AMERICA