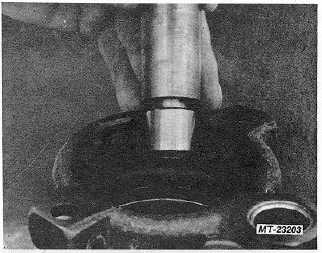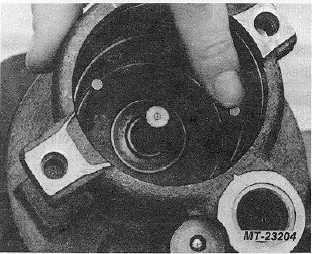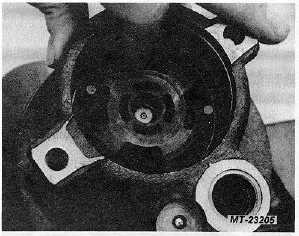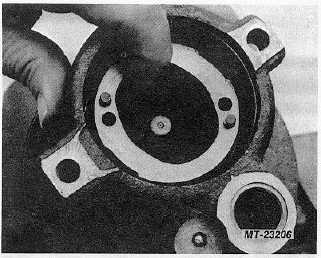 TM 5-4210-230-14&P-1
TRUCK SERVICE MANUAL
STEERING
Fig. 24.  Install New Needle Bearing,
ASSEMBLY
1.
Install  shaft  and  bearing  assembly  (Fig.  18).    Secure
with retaining ring (Fig. 17).
2.
Lubricate  the  reservoir,  pressure-plate,  and  end-plate
"O" rings with power steering fluid and install into pump
housing (Figs.  4, 10 and 12).
3.
Insert  two  dowel  pins  into  housing  -  press  on  pins  to
seat fully (Fig. 25).
Fig. 25.  Install Dowel Pins
4.
Pilot  thrust  plate  on  dowel  pins  and  push  down  until
thrust plate bottoms on housing (Fig. 26).
Fig. 26   Install Thrust Plate
5.
Guide   pump   ring   onto   dowel   pins   and   seat   against
thrust plate (Arrows on ring up) (Fig. 27).
Fig. 27   Install Pump Ring
6.
Slide rotor onto drive, shaft splines, then assemble ten
vanes into rotor slots with rounded edges of vane out.
Rounded edges must ride against ring cam (Fig. 28).
7.
Squirt  power  steering  fluid  onto  vanes  and  rotor  and
ring    cam    (Fig.        29)    (Lubrication    prevents    internal
damage at initial start).
CTS-2296R  Chapter 3, Page 9
PRINTED IN UNITED STATES OF AMERICA