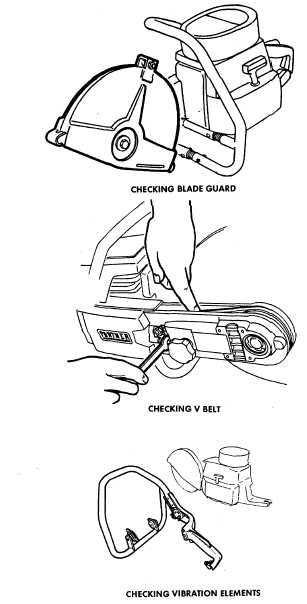 TM5-4210-229-14&P
2-15.  OPERATION OF RESCUE SAW  (Continued).
(4)
Blade guard.
Check   blade   guard   for   cracks   or
other    damage.    Clean    inside    of
guard  before  installing  new  wheel.
Check  that  guard  can  be  adjusted
and locked.
(5)
V belt and covers.
(a)
Check  that  belt  has  the  right  ten-
sion.
(b)
Check   that   covers   are   in   place,
tight,    undamaged    and    that    belt
does not rub on them.
(6)
Handles.
Check  that  handles  are  tight,  un-
damaged, dry and clean.
(7)
Vibration isolation elements.
Check  that  vibration  elements  are
in place.
2-62