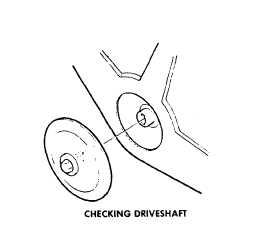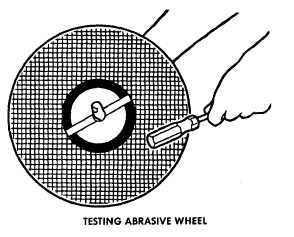 TM5-421 0-229-14&P
2-15.  OPERATION OF RESCUE SAW  (Continued)
(14)    Keep the handles dry, clean, and free of
oil or fuel.
(15)    Operate  the  machine  only  in  well  venti-
lated   areas.   Failure   to   use   the   power
cutter  in  a  well  ventilated  area  can  lead
to serious injury or death.
(16)    The cutter disc should be removed from
the   cutting   machine   when   it   is   trans-
ported or stored.
b.
Preparation for use.
(1)
Attachments.    Never    modify    a    cut-off
saw. Use only approved attachments.
(2)
Driveshafts and flanges.
(a)
Check   that   driveshaft   threads   are   not   dam-
aged.
(b)
Check  that  contact  surfaces  on  cutter  wheel
and flanges are flat, run true on the shaft and
are free of foreign material.
Do not use flanges that are different sizes, warped, nicked,
sprung or dirty.
(3)
Cutter wheel.
(a)
Check   that   wheel   is   approved   for   handheld
portable, high speed, cut-off saws.  Do not ex-
ceed the maximum operating speed marked on
the wheel.
(b)
Inspect wheel for cracks or other damage.
(c)
Test  abrasive  wheels  by  striking  lightly  with  a
piece  of  wood;  if  the  wheel  does  not  make  a
full, ringing sound, it is damaged.
(d)
Do not use a wheel that has been dropped.
(e)
Do not use a diamond or carbide tipped blade
with a tip missing.
2-61