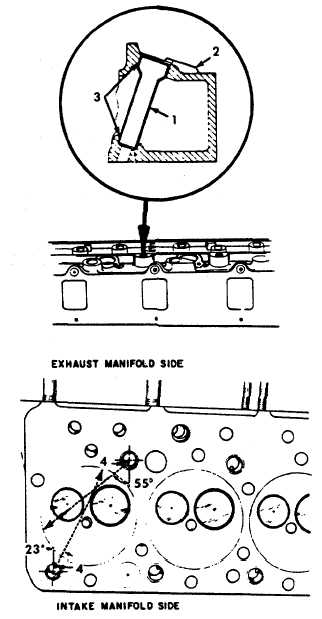 TM 5-4210-229-14&P
6-6.
CYLINDER HEAD AND VALVES MAINTENANCE (Continued).
NOTE
Sudden change in contour such as scratches,
gouges, etc.  must not exceed 0.002 inches(0.05
mm) in depth.
(5)
Inspect nozzle sleeve bore for grease, oil, scale,
or rust after removing sleeve.
(a)  Remove nozzle sleeve (1) from cylinder
head (2) by using a slide hammer and nozzle
sleeve puller adapter.
(b)   Inspect and clean bore as necessary.
(c)   After cleaning bore, apply loctite (Appendix
D, Item 27) to upper contact surface (3) of
sleeve (1).
(d)   Place nozzle sleeve (1) into cylinder
head(2).  Position nozzle sleeve installing
tool in sleeve.  Keep tool centered and tap
squarely with brass hammer until sleeve is
bottomed in bore.
(6)
Inspect cylinder head coolant directors for
restrictions or looseness.
(a)    Visually check for restrictions.
(b)  Tap or pull directors by hand to check for
looseness.
(c)   Remove loose or restricted coolant directors.
Use a slide hammer with a small enough jaw
to hook under coolant director (4) "opening."
(d)  New coolant directors should be tapped into
place with a small hammer and block.  They
must be recessed 0.06 inch (1.5 mm) below
the bottom deck of the cylinder head.
(e)  Aim coolant directors at angles shown in
illustration.
b

.
Valve guide inspection.
Failure to clean valve guide bore can cause
premature valve guide wear and in severe
conditions, valve breakage.
6-8