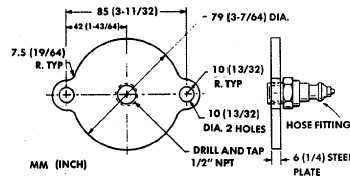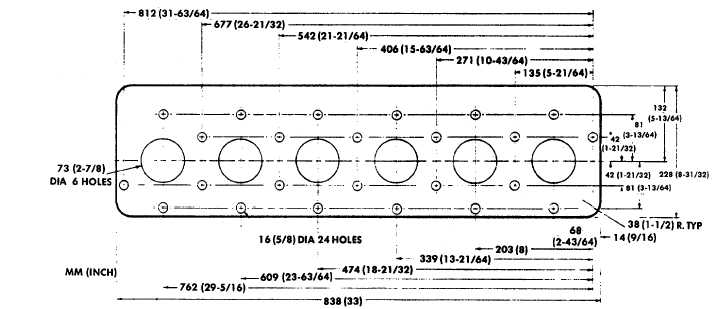 TM 5-4210-229-14&P
6-6.
CYLINDER HEAD AND VALVES MAINTENANCE (Continued)
(3)
Test cylinder head pressure.
(a)  Fabricate gasket as shown.  Use 1/8 inch 3 mm)
rubber.
(b)   Fabricate bottom pressure plate to cover water
directors as shown.  Use 1/2 inch (1 3 mm)
aluminum for a permanent plate or plywood of
the same dimension for a temporary plate.
(c)   Remove the valves and install injection nozzles.
(d)   Attach fitting to thermostat housing with pressure
gauge.  Run hot water at 10-12 psi (69-83 kPa)
into head.
(e)   Visually observe head for leakage at the injection
nozzle sleeve flanges, upper deck, lower deck
and all ports.
(4)   Inspect lower deck for flatness.
(a)    Use a straight edge long enough to span both
length and width of head.  Follow checking
pattern shown.
(b)
Insert feeler gauge under straight edge at each
check point.
(c)
Replace cylinder head if 0.006 inch(0.15 mm)
feeler gauge can be inserted under straight edge
when checking the length or 0.004 inch (0.01
mm) feeler gauge can be inserted under straight
edge when checking width.
6-7