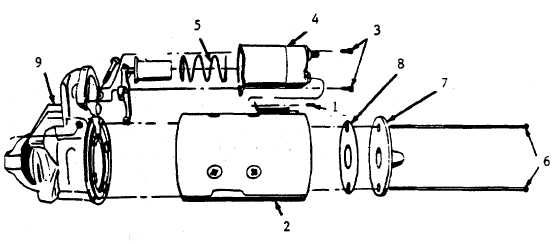 TM5-4210-229-14&P
5-13.
STARTER REPAIR.
This task covers:
a.  Disassembly
b.  Test
c.  Assembly
INITIAL SET-UP
Tools
Materials/Parts
Ammeter
Solvent (Appendix D, Item 54)
Voltmeter
Lubricant (Appendix D, Item 32)
General Mechanics Tool Kit
Starter (1990405)
Test Light
Equipment Condition
Para.
Condition Description
4-86
Starter Removed
DISASSEMBLY
a.
Starter disassembly.
(1)
Remove  screw  (1)  from  field  coil  connector
(2) and solenoid mounting screws (3).  Rotate
solenoid   (4)   90   degrees   and   remove   along
with  plunger  return  spring  (5).    Solenoid  may
now     be     serviced     without     further     starter
disassembly at this time.
(2)
Remove  two  through  bolts  (6),  then  remove
commutator  end  frame  (7),  remove  insulator
(8).    Remove  field  frame  assembly  (2)  from
drive gear housing.
5-31