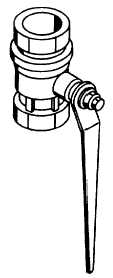 TM5-4210-229-14&P
Table 2-1.  Twin Agent System Controls and Indicators (Continued).
Twin Agent 4x4 Firefighting Truck
(Refer to Figure 2-1)
Key
Control or Indicator
Function
9
AFFF Emergency Shut-Off Valve
The AFFF Emergency Shut-Off Valve serves as a discharge
charge shut-off in the event of a valve failure or hose
rupture.  It is located at the AFFF tank outlet and is in
the OPEN position during normal operating conditions.
10
AFFF Tank Drain Valve
The AFFF Tank Drain Valve is located on the underside
of the AFFF Tank and provides for the draining
of the tank for inspections.
11
Pressure Relief Valve
The Pressure Relief Valve is located on the AFFF
Tank.  The relief valve protects the tank and low
pressure line from over-pressure and is set at 300 psi
(2068 kPa).
2-5