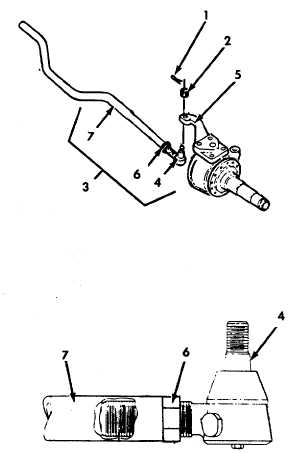 TM5-4210-229-14&P
4-177.  TIE ROD REPLACEMENT.
This task covers:
a.  Removal
b.  Installation
INITIAL SETUP
Tools
General Mechanics Tool Kit
Materials/Parts
Tie Rod (574877C1)
General
Safety
Instructions
Engine OFF.
Transmission in (N) neutral.
Parking brake set.
Battery selector switch OFF
REMOVAL
a. Remove two cotter pins (1) from castellated nuts (2)
from rod assembly (3).
b. Remove tie rod end (4) from steering arm (5).
c. Remove tie rod ends (4) by loosening locknuts (6)
and unscrewing end (4) from tie rod (7).
INSTALLATION
a. Thread tie rod end (4) into tie rod (7) and secure with
locknut (6).
b.
Insert tie rod end (4) into steering arm (5) and
secure with castellated nut (2).
c. Torque nut (2) to minimum 90 ft-lb (122 N.m) and
insert cotter pin (1) through hole in tie rod
end (4).
NOTE
If    cotter    pin    cannot    be    installed    after    obtaining
minimum torque, do not back off nut. Tighten to next
castellation

.
4-193