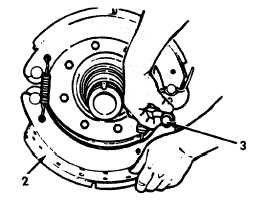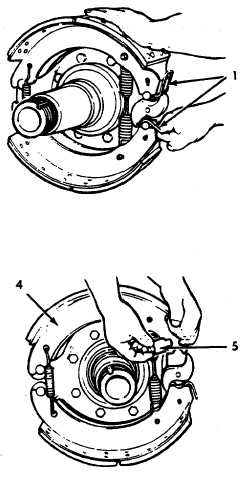 TM5-4210-229-14&P
4-169.  SERVICE BRAKES MAINTENANCE.
This task covers:  a.  Removal
b.  Service
c.  Installation
INITIAL SET-UP
Tools
General Mechanics Tool Kit
Materials/Parts
Front Brake Shoes (482433C91)
Rear Brake Shoe Curbside (580990C92)
Rear Brake Shoe Streetside (580989C92)
Lubricant (Appendix D,  Item 22)
Equipment
Condition
Para.  Condition Description
4-162 Tire Rim Assembly Removed
4-198 Hub and Drum Removed
General
Safety
Instructions
Engine OFF.
Transmission in (N) neutral.
Parking brake set.
Battery selector switch OFF.
Tires Blocked
REMOVAL
a.  Push the roller retainers (1) out of the way.
b.    Push  down  on  the  lower  shoe  (2)  and  remove  the
bottom roller (3).
c.  Pull up on upper shoe (4) and remove the top roller
(5).
4-184