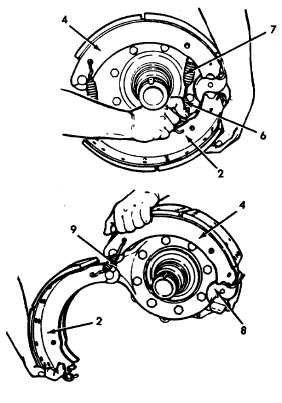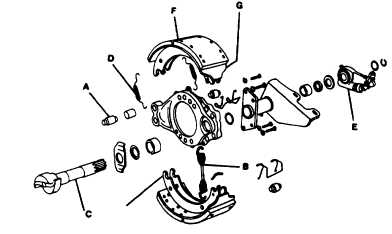 TM5-4210-229-14&P
4-169.  SERVICE BRAKES MAINTENANCE (Continued).
d.      Pull  up  on  lower  shoe  (2)  and  disconnect  return
spring   (6).      Disconnect   return   spring   (7)   from
upper shoe (4) and discard.
e.   Swing the lower shoe (2) away from the cam (8) to
relieve the tension on the shoe retainer springs.
f.      Remove  the  two  shoe  retainer  springs  (9)  and
discard.
g.         Remove   the   upper   (4)   and   lower   shoe   (2)
assemblies.
SERVICE
Good   maintenance   requires   lubrication   of   all   brake
linkages,    anchor  pins,    camshafts,    slack  adjusters,
and
other
moving
parts
calling
for
grease.
Sluggishness   follows   neglected   lubrication.      A   high
temperature
resistant
lubricant
should
be
used
(Appendix D,  Item 22).
A.  Anchor Pin
B.  Return Spring
C.  Camshaft
D.  Retaining Spring
E.  Slack Adjuster
F.  Brake Lining
G.  Brake Shoe
4-185