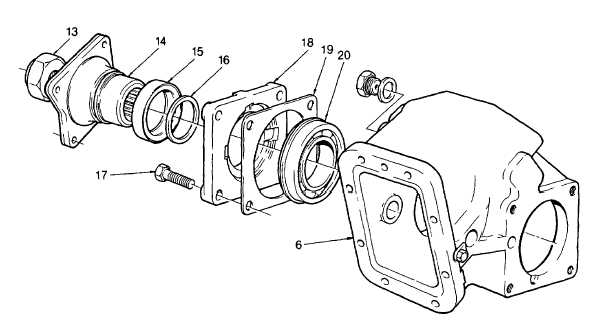 TM 5-4210-220-34
2-12.
PUMP DRIVE AND PTO - Continued
2-12.1
Power Take Off Unit - Continued
(14)  Fill transmission with automatic transmission fluid (item 9, Appendix B) as detailed in Lube Order, LO 5-
4210-220-12.
(15)  Reconnect  batteries,  start  truck  and  operate  PTO.    Visually  check  for  oil  leaks.    Tighten/remake  any
leaking connections.
b.
Bearing Cover Seal Replacement
(1)
Remove the torque converter housing drain plug and drain transmission fluid into a clean pan.  During
cold weather, run transmission until oil Is warm.
(2)
Remove PTO to reducer gear drive shaft (see TM 5-4210-220-12).
(3)
Remove  nut  (13)  and  companion  flange  (14)  from  drive  shaft.    A  mechanical  puller  may  be  used  to
remove companion flange.
(4)
Remove bearing cover (18) from PTO housing (6) by removing capscrews (17).  Remove and discard
gasket (19).
(5)
Remove seal (15) from bearing cover (18).  Discard seal.
(6)
Inspect seal bore in bearing cover (18) for nicks or burrs.  Remove with emery cloth (item 13, Appendix
B).  If damage is severe, replace bearing cover.
(7)
Inspect bearing cover for warps or cracks.
(8)
Inspect companion flange seal area for corrosion or wear rings.  Replace if necessary.
(9)
Lubricate new seal using automatic transmission fluid (item 9, Appendix B) and install into bearing cover
(18).  Make sure the sealing lip faces the bearing (20).
2-66