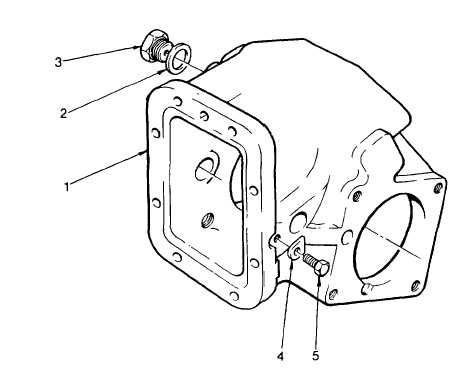 TM 5-4210-220-34
2-12.
PUMP DRIVE AND PTO - Continued
(10)  Aline one new bearing cover gasket (19) with bearing cover (18) and attach to PTO housing  (6) using
capscrews (17).  Torque capscrews evenly to 90 ft lb (122 Nm).
(11)  Make  sure  the  spacer  (16)  is  positioned  between  bearing  (20)  and  companion  flange  (14).    Slide
companion flange onto drive shaft.  Thread nut (13) onto drive shaft and torque to 80 ft lb (108 Nm).
(12)  Fill transmission with automatic transmission fluid (Item 9, Appendix B) as detailed in Lube Order, LO 5-
4210-220-12.
(13)  Install PTO to reducer gear drive shaft (see TM 5-4210-220-12).
(14)  Reconnect  batteries,  start  truck  and  operate  PTO.    Visually  check  for  oil  leaks.    Tighten/remake  any
leaking connections.
OVERHAUL
NOTE
Replacement of gaskets, seals, and bearings is strongly recommended if PTO is completely disassembled.
a.
Disassembly
(1)
Remove inspection plug (3) and gasket (2) from the PTO housing (1).
(2)
Remove capscrews (5) and retaining plate (4).
2-67