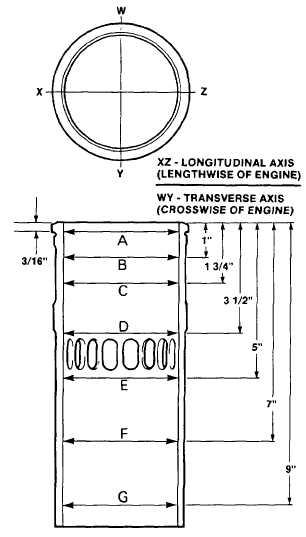 TM 5-4210-220-34
(5)
Use hone J5902-1 equipped with 120 grit stones.  Spin hone at 300 - 400 rpm working the full length of liner a
few times to produce a criss-cross pattern having marks on a 45 deg axis.
WARNING
Dry  cleaning  solvent  P-D-680  (safety  or  Stoddard's  solvent)  is  potentially  dangerous.    Avoid  repeated  and
prolonged  breathing  of  vapors  and  skin  contact  with  the  liquid.    Do  not  use  near  open  flame,  arcing
equipment or other ignition sources.  Always wear eye protection and protective clothing.  The flash point of
P-D-680 is 100 to 138 deg.  F (30 to 59 deg.  C).
Death or serious injury could occur is compressed air is directed against the skin.  Do not use compressed
air for cleaning for drying unless the pressure Is/has been reduced to 30 psi (2.11 kg/cm2) or less.  When
working   with   compressed   air   always   use   chip   guards,   eye   protection   and   other   personal   protective
equipment.
(6)
After honing the liner remove it from the holding fixture and clean it thoroughly with dry cleaning solvent (item
10, Appendix B).  Blow dry with compressed air
NOTE
A  reused  liner  must  conform  to  the  same
limits  on  taper  and  out-of-round  as  a  new
liner.
(7)
With
liner
secured
in
holding
fixture
measure  the    inside  diameter    at  various
points   using   cylinder   bore   gage   J5347-B
and master ring gage J24564.
(8)
Measure inside diameter of liner at points A,
B, C, D, E, F, and G on axis XZ and WY.
(9)
The  taper  and  out-of-round  of  a  used  liner
must  not  exceed  0.0025  in.    (0.0635  mm).
Taper   on   a   new   liner   must   not   exceed
0.0015 in.  (0.0381 mm).  Out-of-round on a
new    liner    must    not    exceed    0.002    in.
(0.0508 mm).
(10)
Replace   liners   that   do   not   meet   required
specifications.
INSTALLATION
a.
Liner Installation
(1)
Be   sure   inside   and   outside   of   liner   are
clean.
Make
sure
block
bore
and
counterbore are clean.
(2)
Clean seal ring grooves in block.
3-167