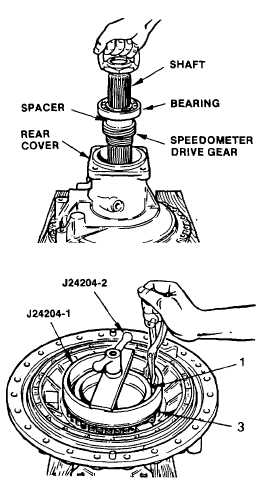 TM 5-4210-220-34
3-7.
TRANSMISSION-Continued
(5)
Attach a hoist to the lifting bracket, fastened to output shaft.  Carefully separate the rear cover from the
adapter housing.  Remove the rear cover gasket and discard.
(6)
Properly block rear housing on clean workbench area with output end upwards.
(7)
Using  tools  J24171-1,  2,  4,  remove  dust  shield  (31)  and  output  shaft  oil  seal  (30)  from  the  rear  cover
output end.
(8)
Remove speedometer drive components.
(9)
Remove the snap ring (28) that retains the rear output shaft bearing (29).
(10)
Remove  the  rear  output  shaft  (12),  and
its attached parts, from the rear cover.
(11)
Support   the   front   of   the   speedometer
drive  gear,  and  press  the  output  shaft
from    the    gear,        spacer    sleeve,    and
bearing.
(12)
If
orifice
plug
or
bushing
requires
replacement,  remove  either  or  both  as
required.
(13)
Using  compressor  components  J24202-
1   and   J24204-2,   compress   the   spring
retainer and springs.  Remove the snap
ring (1), and remove the compressor.
(14)
Remove  the  spring  retainer  (2)  and  30
springs (3).
(15)
Remove the clutch piston (4).  Remove the inner (6) and outer (5) seal rings from the piston.
(16)
If the speedometer driven gear bushing (15) requires replacement, remove it.  Thread remover J24205-2
into the bushing.  Attach slide hammer J6125-1 to remover J24205-2 and remove the bushing.
(17)
Remove any remaining parts that require replacement, from the rear cover.
3-61