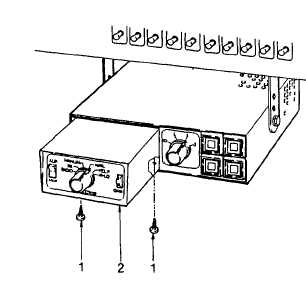 TM 5-4210-220-34
2-9.
SIREN AND PA SYSTEM.
This task covers:
a.
Removal
b.    Installation
c.    Repair
INITIAL SETUP:
TOOLS
EQUIPMENT CONDITION
Shop Equipment, Automotive
Main Engine Shutdown (see TM 5-4210-220-12)
Maintenance and Repair,
APU Engine Shutdown (see TM 5-4210-220-12)
NSN 4910-00-754-0650
Batteries Disconnected (see TM 5-4210-220-12)
REMOVAL
Remove screws (1) and pull siren module (2) out of
chassis.
INSTALLATION
(1)     Check  that  plugs  on  the  back  side  of  siren
module   and   corresponding   receptacles   in
chassis    are    securely    installed.        Secure
attachment  is  necessary  to  ensure  proper
electrical contact when module is installed.
(2)     Slide    module    (2)    into    place    In    chassis.
Install and tighten screws (1).
REPAIR
Siren Module Repair
NOTE
Repair of the siren unit or module Is only done by electronic maintenance personnel at the intermediate
level.    The  following  repair  procedure  is  limited  to  cover  the  siren  module  only  as  no  functions  are
identified for the option control module .
(1)     Only a limited number of components are replaceable in the siren module since components on the
printed circuit boards are not considered individually replaceable.  Use the illustrations and legends to
identify  the  replaceable  parts.    For  convenience,  the  parts  are  Identified  by  their  circuit  reference
numbers.
Be  careful  when  replacing  and  soldering  small  components.    Heat  easily  damages  integrated  circuits,
transistors,  capacitors  and  circuit  boards.    Therefore,  it  is  advisable  to  use  long  nose  pliers  or  similar
devices as a heat sink on component leads being soldered.
(2)     When replacing the output amplifier transistors, Q301 and 0302,  always  ensure  that  they  are  replaced  in  a
matched pair.  Make sure that the wire insulators used with the transistors are replaced also.  When installing
new transistors use a heat sink compound on both sides of the mica insulators.  Be sure the insulators are
installed correctly, otherwise a short circuit may occur.
2-26