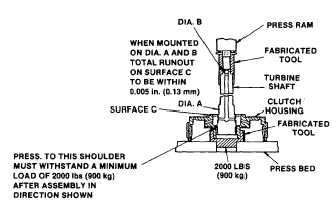 TM 5-4210-220-34
3-7.
TRANSMISSION - Continued
(21)  Position  the  clutch  housing,  turbine  shaft  downward,  so  the  PTO  gear  is  resting  on  the  cylindrical  fixture.
Center the fixture directly under the PTO gear.
(22)  Center  fixture  tool  J26899-1  inside  the  forward  clutch  housing  and  apply  sufficient  pressure  to  the  tool  to
remove the PTO gear.  Remove the snap ring.
Pressure applied directly to the turbine shaft will cause permanent damage.
(23)  Do not remove balls (26) from the forward clutch housing unless replacement is necessary.
(24)  If the turbine shaft is damaged or loose or the butt-joint seal ring area of the housing requires rework, support
the front of the forward clutch housing in a ten-ton press and remove the turbine shaft.
(25)  It is permissible to hard chrome plate the splines of a used shaft (0.001 - 0.002 in.  (0.025 - 0.051 mm) thick)
to tighten loose joint on used assembly.
Do not attempt this rework procedure unless adequate machining capabilities are available.
(26)  Acceptable wear in the rotating seal bore of the forward (or fourth) clutch housing is normal polishing of the
sealing surfaces by the seals and no greater step  wear  than  0.0005  in.    (0.0127  mm).    Replace  housing  if
worn beyond specification.
NOTE
If the forward clutch housing is replaced, selection of a proper piston (A, B or C) Is imperative before seal
ring installation.  If the forward clutch housing is not replaced and a new piston is required, make sure the
identification letter stamped on the new piston is identical to that on the old piston.
(27)  Ensure  that  the  shaft  is  pressed  squarely
into   the   housing   assembly   to   locate   the
forward clutch housing assembly center line
square  and  true  with  the  center  line  of  the
ram.
3-40