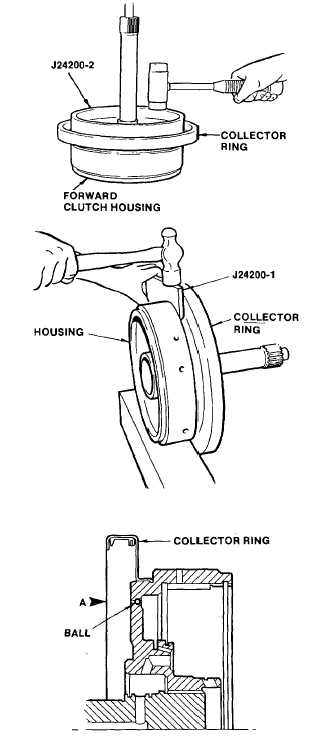 TM 5-4210-220-34
3-7.
TRANSMISSION - Continued
(28)  Install PTO gear in oven or oil bath and heat
to 350 - 375 deg.  F (177 - 191 deg.  C).
(29)  Carefully   install   the   PTO   gear   onto    the
forward  clutch  housing  (chamfer  end  first),
until  the  snap  ring  expands  into  the  PTO
gear  groove.    Make  sure  the  snap  ring  is
expanded and free in the internal groove of
the  gear  before  the  gear  cools.    Failure  to
obtain  this  condition  can  result  in  difficulty
during subsequent removal.
(30)  Position the forward clutch housing, turbine
shaft  upward.    Apply   retaining   compound
(item 23, Appendix B) onto the collar of the
collector ring.  Install the collector ring.  Use
installer J24200-2 to drive the collector ring
onto the clutch housing.  Use light hammer
blows,  and  work  around  the  entire  installer
circumference.
(31)  Using staking tool J24200-1, bend the edge
of the collector ring into the groove in the
clutch housing.  Press to shoulder and
bend metal into groove for entire
circumference.
(32)  Check the four steel balls (7) in the housing.
Make sure they are securely staked in the
housing  and  are  free  to  move  without
restriction.  Must withstand 30 lb (133.45 N)
load applied in direction indicated by arrow
A.
3-41