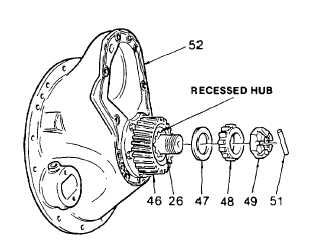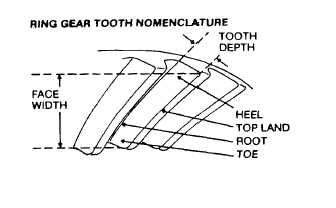 TM 5-4210-220-34
2-21.
FRONT AXLE - Continued
NOTE
Carry out step 3 even if bearing (48) only
needs replacement.
(3)
Remove bearing cone (48), spacer (47),
and gear (46) in one operation using a
suitable puller as shown.
(4)
Install gear (46) on pinion (26).  Be sure
recessed hub is facing out as shown.
(5)
Install spacer (47) and bearing (48).  Use a
hammer and a suitable sleeve to seat
bearing.
(6)
Install castle nut (49) and tighten to 840 ft lb
(1140 Nm).  Continue to tighten nut further
until a roll pin hole in pinion alines with a
slot in castle nut.
(7)
Install roll pin (51).
(8)
Proceed with installation of power divider as
detailed in para.  2-20.1.
ADJUSTMENT
NOTE
Bearing  preload  adjustment  Is  performed  for  both  pinion  and  differential  bearings.    It  maintains  proper
gear  alinement  by  creating  correct  bearing  cone  and  cup  relationship  for  free  rotation  under  load.    The
pinion pilot bearing does not require a preload adjustment.
Ring  gear  tooth  contact  adjustment  positions  ring  gear  and  pinion  for  best  contact  under  load  Correct
adjustment distributes torque evenly over gear teeth and helps maximize gear set life.
a.
Differential Bearing Preload And Ring Gear Backlash Adjustment
(1)
Loosen  the  bearing  adjustor  on  the  same
side  as,    the  ring  gear  teeth  until  its  first
thread is visible.
(2)
Tighten
the
bearing
adjustor
on
the
backface side of the ring gear until there is
no backlash.  This  can  be  tested  by  facing
the   ring   gear   away   from   the   body   while
gently  rocking  the  gear  from  side  to  side.
There should be no free movement.  Rotate
the ring gear and check for any point where
the  gear  may  bind.    If  such  a  point  exists,
loosen and retighten the back side adjustor.
Make all further adjustments from the point
of tightest mesh.
2-297