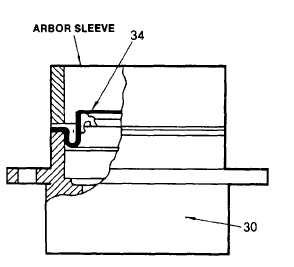 TM 5-4210-220-34
2-21.
FRONT AXLE - Continued
2-21.2
Differential Carrier - Continued
(16)  Press outer pinion bearing (41) onto pinion (34) using a suitable press.
(17)  For front axle only, install oil seal (42) in bearing cage (38) using a press or a hammer and a suitable arbor.
Be sure the arbor (sleeve) exerts pressure on seal flange only as shown.
(18)  For  front  axle  only,  lubricate  oil  seal  with  a  few  drops  of  oil  (Item  15,  Appendix  B)  and  install  yoke  (43),
washer (44), and nut (45).  Tighten nut to 700 ft lb (950 Nm)  (19)
Carry   out   final   pinion   bearing   preload
adjustment as detailed in ADJUSTMENT procedure d.  following.
NOTE
If  ring  gear  and  pinion  are  to  be  reused,  install  same  quantity  and  thickness  of  shims  between  pinion
bearing cage and differential carrier as removed.  When a new gear set is  used,  select  a  nominal  shim
pack 0.023 in.  (0.58 mm) thick.
(20)  Place shim pack (29) on carrier flange.  On
front axle differential carrier make sure lube
holes in shims line up with lube holes in
carrier flange.
(21)  Install pinion assembly using capscrews
(40) and lockwashers (39).  Tighten
capscrews as follows: Front differential, 125
ft lb (170 Nm) Rear differential, 175 ft lb
(235 Nm)  (22)
For rear axle, install
helical gear (46) as detailed In procedure c.
following.
(23)  Proceed with installation of power divider or
differential carrier to axle as required, see
para.  2-20.1 or para.  2-21.2.
c.
Pinion Helical Gear and Support Bearing Repair
NOTE
This procedure is applicable to rear differential only.  If bearing (48) is found faulty when inspected, both
the  cone  shown  as  well  as  the  outer  race  must  be  replaced,  as  detailed  in  para.    2-20.1  REMOVAL
procedure a, step 12 and INSTALLATION procedure a.  step 2.  If power divider input or output shaft gear,
see para.  2-20.1, or pinion gear (46) Is damaged, all three gears must be replaced.
(1)
Inspect bearing cone (48) and gear (46) as detailed in para.  2-7.  If replacement of either component is
required carry out following procedures.  If pinion (26) is damaged or faulty, carry out repair as detailed in
REPAIR procedure b.  preceding.
(2)
Remove roll pin (51) and nut (49).
2-296