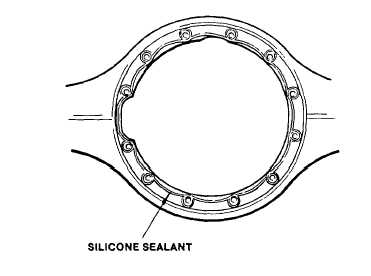 TM 5-4210-220-34
2-21.
FRONT AXLE - Continued
2-21.2
Differential Carrier - Continued
(1)
Apply  a  1/8  in.    (3  mm)  bead  of  silicone
sealant  (item  28,  Appendix  B)  to  mounting
flange on axle housing as shown.
(2)
Ensure  shift  fork  (7)  is  to  the  side,  away
from  the  differential,  and  the  sliding  clutch
is engaged.
(3)
Install
differential
carrier
(11)
in
axle
housing   (4)   using   lockwashers,   nuts   (9),
and  capscrews  (8).    Tighten  nuts  to  240  ft
lb (325 Nm).  Tighten capscrews to 220 ft lb
(300 Nm).
(4)
Push  left  and  right  wheel  end  assemblies
(3) into axle housing (4).  Turn pinion yoke,
if  necessary,    to  line  up  and  engage  axle
shaft   and   differential   side   gears.      Attach
wheel
ends
to
axle
housing
using
lockwashers, nuts (2), and capscrews (1).
(5)
Tighten nuts to 360 ft lb (490 Nm) and tighten capscrews to 220 ft lb (300 Nm).
(6)
Install axle breather (10).
(7)
Install differential lock air shift unit as detailed in TM 5-4210-220-12.
(8)
Install brake air lines, if removed, between frame and wheel-end-mounted brake air chambers.
(9)
Install and adjust tie rod end (6) and steering drag link on left wheel end as detailed in TM 5-4210-220-12.
(10)  Remove maintenance trestles and, with truck resting on the floor, tighten pinion shaft yoke nut (12) to 960 ft
lb (1300 Nm).
REPAIR
a.
Differential, Differential Lock, and Ring Gear Repair
NOTE
If  ring  gear  and  pinion  are  considered  reuseable,  check  tooth  contact  pattern  and  ring  gear  backlash
before disassembling differential carrier.  See ADJUSTMENT following.  Best results are obtained when
established wear patterns are maintained in used gearing.  Before disassembling differential carrier,  the
effectiveness of the differential lock should be checked.
(1)
Mount differential carrier assembly in a repair stand.
(2)
Remove shift fork seal and spring (53).  Remove expansion plugs (54) and drive out shift fork shaft (55).
2-288