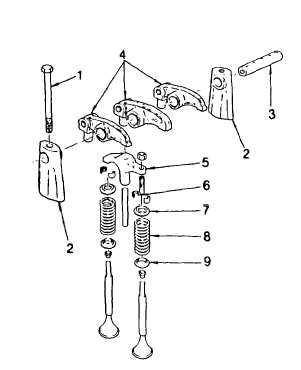 TM 5-4210-220-34
2-19.
ENGINE - Continued
2-19.7
Exhaust Valves - Continued
(21)  Swing the rocker arm assembly into position making
sure  the  valve  bridges  are  properly  positioned  on
the     rear     valve     stems.          This     precaution          is
necessary      to      prevent      valve   damage   due   to
mislocated valve bridges.
(22)  Install  the  rocker  arm  shaft  brackets  (2)  and  shaft
(3).
(23)  Install  the  two  bolts  (1)  holding  the  brackets  to  the
cylinder head and tighten to 100 ft lb (136 Nm).
(24)  Install the fuel pipes between the injectors and fuel
connectors.  Be sure all shipping caps are removed
prior to installation.
(25)  Fill the cooling system.
(26)  Check  the  exhaust  valve  clearance  as  detailed  in
ADJUSTMENT preceding.
REPAIR
a.
Exhaust Valve Guide Repair
NOTE
The valve guides cannot be repaired; if the valve stem to guide clearance is excessive, replace the valve
guide as detailed following.
(1)     Pull out the valve guide oil seal and discard.
(2)     Support the cylinder head, bottom side up, on 2 in.  (50 mm) thick wood blocks.
(3)     Using tool J6569 and a hammer, drive the valve guide out from the cylinder head.
(4)     Place the cylinder head right side up on an arbor press.
(5)     Install the internally threaded end of the valve guide in the installing tool J21520.
(6)     Position  the  guide  squarely  in  the  bore  in  the  cylinder  head  and  press  the  tool  J21520  gently  to  start  the
guide.
(7)     Press the guide in until the tool contacts the cylinder head.  The tool installs the guide 0.670 - 0.710 in.  (17 -
18 mm) above the top of the cylinder head.
2- 210