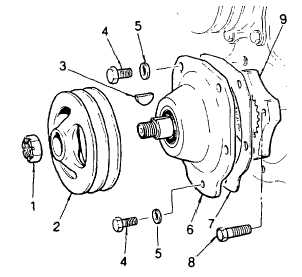 TM 5-4210-220-34
2-19.
ENGINE - Continued
2-19.2
Accessory Drive.
This task covers
a.
Removal
b.
Inspection
c.
Installation
d.
Repair
TOOLS
Batteries Disconnected (see TM 5-4210-220-12)
Shop Equipment, Automotive
Both Engine Compartment Covers Removed
Maintenance and Repair,
(see TM 5-4210-220-12)
NSN 4910-00-754-0705
J33001 Alinement Tool
MATERIALS/PARTS
5131329 Steering Pump Drive Gasket
EQUIPMENT CONDITION
5104507 Alternator Gasket
Main Engine Shutdown (see TM 5-4210-220-12)
APU Shutdown (see TM 5-4210-220-12)
NOTE
A single accessory drive is installed on the front left-hand side of the engine.  Three accessory drives are
installed on the rear of the engine; two are pulley drives and one is direct drive. Repair of the accessory
drive consists of replacing components of the drive which have failed. Dismantle drive system only as far
as required to remove the failed component.
REMOVAL
a.
Front Accessory Drive Removal
NOTE
This accessory drive pulley is not utilized on this truck.   The  front  accessory  drive  is  camshaft  mounted
(refer to General Support for removal).
b.
Steering Pump Drive Removal
(1)
Remove steering pump and associated mounting brackets (see TM 5-4210-220-12).
(2)
Remove pulley nut (1).
(3)
Remove    pulley    (2)    using    a    puller.
(Pulley  has  threaded  holes  to  attach
puller.)
(4)
Remove pulley key (3).
(5)
Remove bolts (4) and lockwashers (5).
Lift    off    retainer    (6).        Remove    and
discard gasket (7).
(6)
Place    a    clean    lintless    cloth    in    the
housing opening (under the accessory
drive   plate   or   drive   hub)   to   prevent
bolts  from  accidentally  falling  into  the
gear   train.      Then   remove   the   four
shoulder   bolts   (8)   and   withdraw   the
accessory drive plate
(9).
2-166