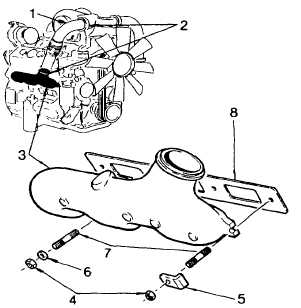 TM 5-4210-220-34
2-19.
ENGINE.
2-19.1
Exhaust Manifold.
This task covers
a.
Removal
b.
Inspection
c.
Installation
TOOLS
MATERIALS/PARTS
Tool Kit, Master Mechanic,
20, Appendix B Penetrating Oil
NSN 5180-00-699-5273
5122866 Exhaust Manifold Gasket
5101435 Left Exhaust Manifold
EQUIPMENT CONDITION
5101436 Right Exhaust Manifold
Main Engine Shutdown
(see TM 5-4210-220-12)
APU Shutdown (see TM 5-4210-220-12)
Batteries Disconnected
(see TM 5-4210-220-12)
Both Engine Compartment Covers Removed
(see TM 5-4210-220-12)
WARNING
Exhaust parts can be hot enough to cause severe burns if touched.  Allow exhaust system to cool before
servicing.
NOTE
If components are excessively corroded, apply penetrating oil (item 20, Appendix B) to ease disassembly.
REMOVAL
(1)
Remove the right exhaust manifold to turbocharger pipe (1) by loosening and removing the seal clamps (2).
(2)
While supporting the right exhaust manifold
(3)  remove  the  four  nuts  (4).    Remove  the
two hold-down crabs (5) and bevel washers
(6) from the exhaust manifold studs (7).
(3)
Slide  the  right  exhaust  manifold  from  the
studs and lift from engine compartment.
(4)
Remove  and  discard  the  exhaust  manifold
gasket (8).
(5)
Remove  the  left  exhaust  manifold  similarly
to steps 1 thru 4 preceding.
2-164