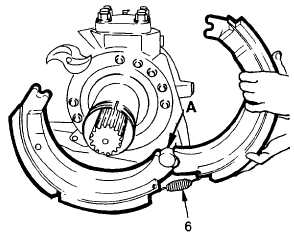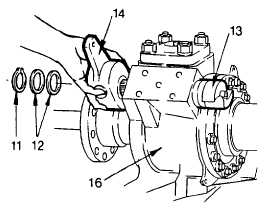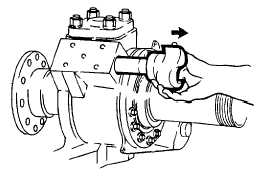 TM 5-4210-220-12
4-32.  FRONT AXLE-Continued
(5)
Rotate brake shoes around anchor pin (A) and remove
from axle.
NOTE
Replace cam rollers and pins (4 and 5), shoe
return  spring  (3),  and  shoe  retainer  springs
(6) every time the brake shoes are replaced.
(6)
Remove capscrew (7) and cover (8).
(7)
Remove  cotter  pin  (9)  and  clevis  pin  (10)  from  air
chamber push rod clevis.
(8)
Remove    snap    ring    (11)    and    washers    (12)    from
camshaft (13).
CAUTION
Do  not  hammer  on  slack  adjuster  to  remove.
Damage   to   slack   adjuster   and/or   camshaft
splines may result.
(9)
Remove  slack  adjuster  (14)  using  a  suitable  puller  if
necessary.
(10)
Remove  washer  (12)  and  pull  camshaft  (13)  out  of
bore in ball socket (16).
4-605