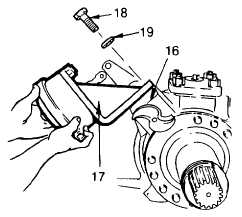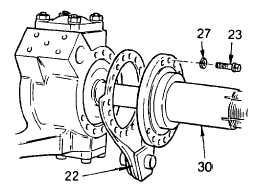 TM 5-4210-220-12
4-32.  FRONT AXLE-Continued
4-32.5  Brake Assembly-Continued
INSPECTION
(1)
Inspect   air   chamber   bracket   (17)   for   cracks   or   bends.
Inspect   air   chamber   (24)   for   leaks,   bent   push   rod,   loose
clamp ring, clogged vent, or housing damage.  If air chamber
is    damaged    remove    nuts    (20)    and    washers    (21)    and
disconnect  brake  chamber  air  line  (29).    If  bracket  (17)  is
damaged or ball socket assembly is being replaced, remove
capscrews  (18),  washers  (19)  and  disconnect  brake  air  line
(29).
(2)
Inspect brake spider (22) for cracks at bolt holes, cam area,
or  around  anchor  pin.  If  replacement  of  the  spider  or  ball
socket   assembly   is   required   remove   capscrews   (23)   and
washers (27) and remove both wheel spindle (30) and spider
(22).
(3)
Inspect anchor pin (A).  If pin is loose or grooved more than
0.03 in. (0.8 mm) below original surface, replace the spider.
(4)
Inspect   brake   shoes   (1   and   2)   and   replace   if   lining   is
contaminated, cracked, or worn to 3/16 in. (4.5 mm) thick at
any  point,  or  if  rivets  are  less  than  1/16  in.  (1.6  mm)  below
surface of lining.
(5)
Check brake shoes for bent or cracked webs or table.  Check also for broken weld seams, loose rivets, or
elongated rivet holes.  Replace shoes if any of these conditions are found.
(6)
Inspect camshaft (13).  Check for damaged or worn splines, corroded or worn bearing journals, brinelling,
cracks, or flat spots on camshaft head.  Replace camshaft if worn or defective.
NOTE
To  carry  out  the  following  inspection  procedure,  the  camshaft,  brake  spider,  and  slack  adjuster
including normally used shim washers must be assembled as shown.
(7)
Mount a suitable dial indicator with the plunger referencing the cam head at 90 deg.. from cam face.
(8)
Pull camshaft inward, i.e., cam head toward spider, to take up any end play and set dial indicator to zero.
4-606