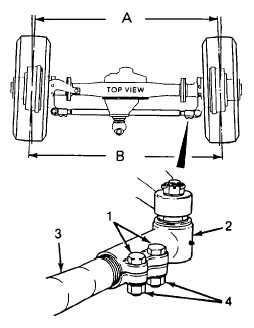 TM 5-4210-220-12
4-32.  FRONT AXLE.
4-32.2  Tie Rod and Tie Rod Ends.
This task covers
a.
Adjustment
b.
Replacement
TOOLS
Tool Kit, General Mechanic, Automotive,
NSN 5180-00-177-7033
EQUIPMENT CONDITION
Main Engine Shutdown (see para. 2-10)
APU Engine Shutdown (see para. 2-12)
Batteries Disconnected (see para. 4-24.12)
Rear Wheels Blocked (see para. 4-9)
Truck Front End Raised (see para. 4-9)
MATERIALS/PARTS
16, Appendix E Grease
302439 Tie Rod End LH
302438 Tie Rod End RH
302440 Tie Rod
36400 Capscrew
90422 Lockwasher
56286 Hex Nut
MS15003-1 Grease Fitting
302447 Washer
302365 Castle Nut
90871 Cotter Pin
ADJUSTMENT
(1)  Scribe a line around the center of each front
tire by holding a chalk against the tire tread
while rotating the wheel.
(2)    Measure  distance  (A  and  B)  at  front  and
rear  of  wheels  as  shown  and  compare  the
measurements (A) should be 0 to 1/8 in. (0
to    3.2    mm)    shorter    than    (B).        If    the
difference between (A) and (B) is not within
this range, adjust tie rod as detailed in steps
3 thru 5.
(3)  Loosen capscrews (1) and nuts (4) securing
left and right tie rod ends (2).
(4)    Adjust  tie  rod  length  and  thus  front  wheel
toe-in   by   turning   tie   rod   (3)   clockwise   or
counterclockwise.        Adjust    until    toe-in    is
within range detailed in step 2.
NOTE
Be   sure   tie   rod   is      sufficiently
screwed into both tie rod ends to
provide   effective   clamping   when
capscrews (1) are tightened.
(5)    Tighten  tie  rod  clamping  capscrews  (1)
and nuts (4) to 175 ft lb (235 Nm) when
rod adjustment is final.
4-594