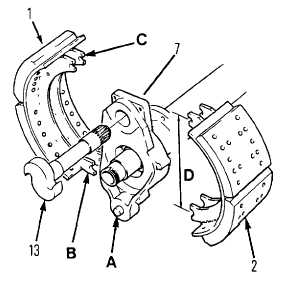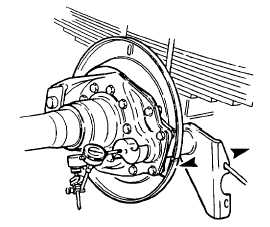 TM 5-4210-220-12
4-30.  REAR AXLE - Continued
INSPECTION
(1)
Inspect   anchor   pin   (A)   If   pin   is   loose   or
grooved more than 0.03 in. (0.8 mm) below
original surface, replace the spider.
(2)
Inspect brake shoes (1 and 2) and replace if
lining is  contaminated, cracked or worn to
less than 1/4 in. (6.4 mm) thickness at any
point, or if  rivets are closer to surface than
1/16 in. (1.6 mm) in any location.
(3)
Check   brake   shoes   for   bent   or   cracked
webs or table.  Check also for broken weld
seams,    loose    rivets    or    elongated    rivet
holes.      Replace   shoes   if   any   of   these
conditions are found.
(4)
Check shoe span by measuring the distance D
between centerlines of anchor pin and camshaft
roller  recesses.    If  D  is  less  than  12  5/16  in.
(312.7 mm) or more  than  12  9/16  in.  (319.1
mm) replace brake shoes.
(5)
Check anchor pin and camshaft roller recesses (B and C) for elongation or visible wear.  Replace brake
shoes.  If diameter of roller recesses (C) have been enlarged to 7/8 in. (22.43 mm) or greater use a piece
of 7/8 in. bar stock as a gage.
(6)
Inspect  camshaft  (13).    Check  for  damaged  or  worn  splines,  corroded  or  worn  bearing  journals,  and
brinelling, cracks or flat spots on camshaft head.  Replace camshaft if worn or defective.
NOTE
To  carry  out  the  following  inspection  procedure  the  camshaft,  brake  spider,  air  chamber
bracket,  and  slack  adjuster  including  normally  used  shim  washers  must  be  assembled  as
shown.
(7)
Check   camshaft   end   play   as   detailed   in
steps 8 thru 11 following
(8)
Mount   a   suitable   dial   indicator   with   the
plunger   referencing   the   cam   head   at   90
deg. from cam face.
(9)    Pull camshaft  inward, ie., cam head toward
spider, to take up any end play and set dial
indicator to zero.
(10)
Push camshaft outward and note maximum
dial   indication.      The   end   play   measured
should   be   0.005   -   0.045   in.   (0.13   -   1.14
mm).
4-571