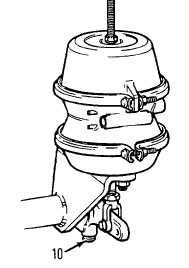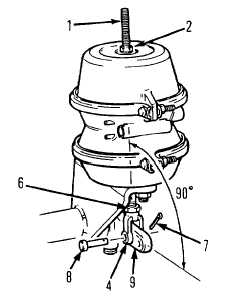 TM 5-4210-220-12
4-30.  REAR AXLE - Continued
4-30.4 Brake Assembly - Continued
(7)    If disconnected, connect truck batteries and
start engine.  Run engine until air system is
at normal pressure.
(8)    Stop    the    engine    and    disconnect    truck
batteries.
(9)
Push locking sleeve on slack adjuster down
and  turn  adjustment  screw  (10)  clockwise
until   brake   shoes   are   tight   against   brake
drum.
(10)
Back    screw    (10)    off    approximately    two
turns,  10-12  flats  on  the  screw  head,  until
there is no brake drag.
(11)
Be   sure   locking   sleeve   engages   adjuster
screw (10) when adjustment is  completed.
(12)  To be sure brakes are free and without drag, tap brake drum with a hammer and listen for a clear
ringing sound, or turn the wheel in forward and reverse directions and check brake shoes do not
rub against brake drum.
(13)  Apply the rear brakes using the brake pedal in the cab.  Check the angle between air chamber push rod
and slack adjuster as shown.  The angle should be 90 deg.  If  the angle is  less, or more than a few
degrees larger than this, adjust position of clevis (4) on push rod (5).
(14)    To  adjust  position  of  clevis  loosen  jam  nut
(6).
(15)    Remove    clevis    pin    (8)    and    disconnect
clevis (4) from slack adjuster (9).
(16)    Turn  clevis  (4)  as  required  to  increase  or
decrease overall length of push rod.
(17)    Secure  clevis  pin    using  cotter  pin  (7)  and
tighten jam nut (6) against clevis.
(18)    Recheck  angle  between  slack  adjuster  and
push rod as detailed in step 10 above.
(19)    Apply  parking  brake  by  removing  nut  (2),
and   twisting   stud   (1)   out   of   engagement
with   spring   retainer.      Remove   stud   from
brake chamber.
(20)
Install stud and nut in storage position on side of brake chamber.  Tighten nut securely.
(21)
Install protection plug in brake chamber opening.
(22)  Repeat steps 2 thru 21 for second rear brake.  When complete, lift axle with jack and remove
maintenance trestles.
4-568