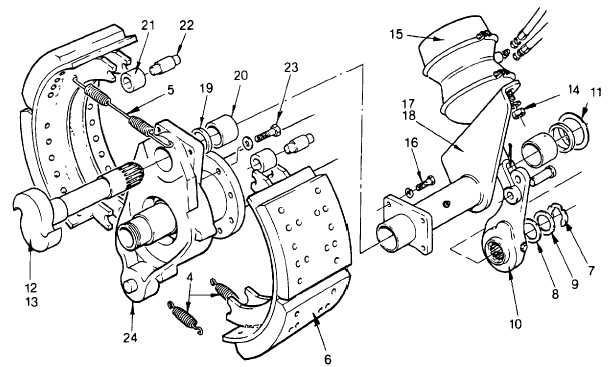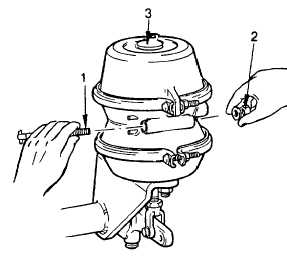 TM 5-4210-220-12
4-30.  REAR AXLE - Continued
NOTE
These  procedures  are  common  for  both  left  and  right  brake  assemblies.    Assemblies  or
components that can only be used on left hand or right hand wheel are so marked.  They are
not interchangeable.
ADJUSTMENT
(1)
Block the front wheels to prevent the truck from moving while working on the rear axle
(2)
Jack  affected  wheel  end  up  until  wheel  is    off  the  ground  Support  raised  wheel  end  on  maintenance
trestle
NOTE
Brake   adjustment   may   be   carried
out  with  rear  wheel  either  removed
or installed.
(3)
From its storage position on the side of the
brake air chamber remove stud (1) and nut
(2).
(4)
Remove  plastic  cap  (3)  from  top  of  brake
chamber.
(5)
Insert  stud  (1)  into  brake  chamber.  Twist
stud  into  engagement  with  spring  retainer
Inside brake chamber.
(6)
Install  and  tighten  nut  until  parking  brake
spring   is      completely   retracted   and   the
brake fully released.
4-567