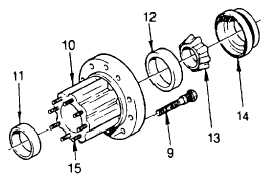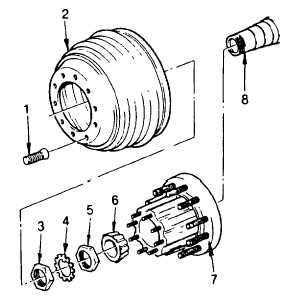 TM 5-4210-220-12
4-30 REAR AXLE - Continued
4-30.3 Hub Assembly - Continued
(10)
If  required,  install  new  bearing  cups  (11
and  12)  using  a  press.    Be  sure  bearing
cups are fully seated.
(11)
Apply
antiseize
compound
(item
3,
Appendix  E)  to  thread  of  new  studs  (15)
and install in hub, if required.
(12)
Pack  bearing  (13) with  grease  (item 16,
Appendix E).  Install it in bearing cup (12)
and install new seal (14) in hub.
CAUTION
Be careful not to damage oil seal
when installing hub on spindle.
(13)
Pack  new  bearing  cone  (6)  with  grease
(item   16,   Appendix   E).      Install   hub   on
spindle and install bearing cone (6).
(14)
Install inner bearing nut (5) with machined
shoulder surface against bearing cone (6).
(15)
Install brake drum (2) and inner wheel nut
(1)   and   tighten   to   120   ft   lb   (160   Nm).
Install wheel, as detailed in para. 4-29.1.
(16)
Adjust    wheel    bearings    as    detailed    in
ADJUSTMENT preceding.
(17)
Raise
wheel
end
and
remove
maintenance  trestle.    Lower  and  remove
jack.
(18)
Install   drain   plug   in   differential   housing
and fill axle with fresh oil (see lube order
LO 5-4210-220-12).
4-564/(4-565 Blank)